Receptive Services Association of America (RSAA) Appoints Lisa Simon as Interim Director
Lisa Simon, president of NTA (formerly the National Tour Association) until she left the post at the end of 2013 after 28 years with the organization, has been named interim executive director of the Receptive Services Association of America (RSAA). The action came just after Jane Rossmango, a well-known former receptive tour operator who came out of retirement two months ago to take the job, decided to leave due to unforeseen circumstances. Both NTA and RSSA are based in Lexington, Ky.
RSAA's opportunity and challenge is to find one or two common issues that will unify a group of entrepreneurial companies run mostly by expats who are wary of anything to do with their competitors.  The two common areas that, potentially, may be of interest to most receptive tour operators (RTOs) are:
Any movement by state or city regulatory agents to lump them in with retail online travel agencies (OTAs) such as Expedia and Booking.com that are being pressured to pay taxes on the differential between their product's cost and what they sell it for.
The employment status of escorted tour guides. Currently, several of the larger national RTOs employ a business model that treats tour guides as seasonal staff employees who have their taxes withheld and medical benefits provided during the period they work—creating a higher cost structure. Other RTOs, meanwhile, believe tour guides and escorts are contractors who are responsible for their own benefits and taxes, but are allowed to earn additional revenue by selling optional attractions and activities. As it stands today, the former would like clarity as to who is eligible for contractor status, while the latter would like to stay under the radar.
---
---
10 More Takeaways from WTM 2015
Priscilla Presley, Noel Irwin-Hentschel … and Other Buzz: Last week, we presented the first 10 of 20 takeaways from the World Travel Market in London. Part two follows.
Digital marketing agencies banded together to rent a wooden boat that transported DMO executives and held them captive for presentations. Expedia Media Solutions, Adara, Sojern and MMGY Global were among the sponsors of the boat, which was anchored just downstairs from the North American pavilion at Excel Center.
From presentations during WTM, it became clear that the key countries and regions for growth marketing for 2016 will be China, India, the Middle East, Colombia and Africa.
Florida received strong interest—its main competition for travelers are the beach destinations of Spain—and one of the reasons is that, as of March 1, 2016, the widely unpopular Air Passenger Duty (APD) will be eliminated for anyone under 16 on economy class flights out of the UK, making Florida much more affordable for families.
Several Japanese operators we met who traditionally focused on outbound to the UK and other European destinations at WTM were instead promoting their Japan inbound programs to take advantage of renewed interest from Baby Boomers who had already traveled to Europe and are now focusing on Asia.
AmericanTours International (ATI) is focusing its growth on leveraging its relationships with Chinese operators to expand FIT offerings. Noel Irwin Hentschel, ATI's chairman and CEO, has been developing inbound tours to the Cuban market for her company's AAA partnership. Meanwhile, ATI's Air Tours program, which has received strong reviews and is being sold even to some of its competitors, will be expanding the number of departures for next year.
IPW may have fewer exhibitors in New Orleans this June, compared to the previous three shows in Las Vegas (2013), Chicago (2014) and Orlando (2015), which have much more direct lift capacity for international than does New Orleans (i.e. from Canada, Panama, Cancun, Mexico and seasonal flights from the Dominican Republic) as well as hotels and attractions that are interested in the International markets.
Under the Brand USA banner the USA pavilion design, while not as cohesive as the exhibit areas of other countries, truly reflected the diverse nature of the American product. The block-party concept, which was held at the end of day two at the pavilion, is now a popular and predictable feature that delegates will look forward to.
Tourico, the tour and travel industry's original disruptor, announced that it would be expanding its recruiting to Europe for the Tourico Travel Academy, which has trained some 200 graduates since it began in January 2014.
The Memphis CVB was among the sponsors of an Elvis exhibit at the famed 02 Centre, and they co-hosted a function at the current exhibit that featured a speech by a glamorous, 70-year-old Priscilla Presley that attracted over 200 operators, even though the popular rock band, U2, was playing in the same venue that evening.
Is the women's restroom line a reliable indicator of WTM attendance? If so, many female attendees at WTM report overall attendance in North American pavilion was certainly down this year, regardless of what the data furnished by Reed Exhibitions say. Restroom lines that were usually backed up 10-20 minutes in years past were, to the pleasant surprise of women delegates, non-existent for first time in memory. They also cited the fact that once sought-after valuable floor space usually sold to exhibitors was used this year for unsponsored lounges and seating areas.
---
---
Exclusive coverage of RTO Summit Orlando Part 1:
How to Sell To Indian Operators
The World According to Emirates Air
Receptives and Hoteliers—They Just Don't Understand Each Other
Did the NAJ Camera See You at the Summit
How to Sell to the India Market:  "Every tour operator has America on his mind."
A willing and eager group of delegates seemed to lean on every sentence that came from Prabha "Pabs" Raghava, CEO of Tours Limited, an Atlanta-based receptive tour operator who brings thousands of Indians to the USA each year and whose remarks at NAJ's recent RTO Summit in Orlando generated numerous queries during the question-and-answer period afterwards which ran about as half as long her prepared presentation itself, and, taken collectively, provided delegates with some important points on courting travelers from India, now the ninth largest overseas source market for inbound tourism to the USA. They included the following:
—Where do her itineraries take people? Both the familiar and the not-so-familiar. Most groups want to see attractions such as the Kennedy Space Center in Florida, the monuments in Washington, D.C., and Niagara Falls, but the numbers who want to see second-tier destinations and attractions, such as Hershey Park and sites in Harrisburg, Pennsylvania, are growing.
—Adventure travel? Indian travelers "are not into adventure," eschewing, for the most part, activities such as high impact hiking, zip lining or rafting the rapids—"although NatIonal Parks are coming along …"
—Technical groups enjoy packages that include visits to the Los Angeles and San Francisco areas, where she has them tour the facilities of Apple and Google, as well as the campuses of such universities as UCLA and the University of Southern California—both of which have a large number of students from India.
—"Indians are very proud of their travel accomplishments … and they are interested in certifications." That is, they like a visit to a campus or technical facility that will recognize what they have experienced, learned or accomplished with a certificate.
—Food? "They are very particular about what they eat" and when they eat.  "Once a day, they must have an Indian meal. That makes a huge difference." Most prefer an evening meal featuring Indian cuisine. "In the nighttime, they need Indian fuel. That energizes them for the next day."
—Shopping? "They are big into shopping. They are very proud to buy a lot of things for a lot of people back home."
—How they travel—with whom—is changing somewhat. "Van tours" are increasing. That is, groups of 7 or 8 people (families and/or extended families) like to have one of their own as driver and like to go around the country.
—Advice on how to get their business. "Give us the opportunity to come in and grow the market. Give us a favorable rate in the first visit … Once they get to know your product, they will pay more" on return trips.  Also, "think about the food" and "think outside the box."
—Key market segments for her company (in order): leisure, corporate, MICE, school and student groups, and then FIT.
—Key market segments, continued: "There has been a tremendous increase in MICE groups … we're going to be huge on MICE in 2016 and beyond."
—Good example of how to treat a MICE group. Earlier this year, she had a MICE group from Microsoft India. Upon their arrival at Universal Studios, members of the group were greeted by a look-alike President Barack Obama—complete with a security detail—who shook hands with each member of the group and posed for photos with them.
—Thoughts on the future. The key will be how to accommodate repeat travelers to the USA. What will we do, you do, to bring travelers to second-tier destinations?  There is no doubt about the desire of Indians to visit the United States or tour operators to sell the destination: "America is the last place, the ultimate place, to visit. It is in the mind of every tour operator."
The World According to Emirates
Eighty percent of the world's population is within an eight-hour flight of Dubai, Bruce Beckman, senior sales executive for Emirates airlines who is based in Orlando, told delegates to NAJ's recent RTO Summit in Orlando.
Beckman's presentation reinforced the argument that the United Arab Emirates (UAE)—there are seven of them clustered near the southern tip of the Persian Gulf—have become an important center for East-West connections in both commerce and tourism. "The point of connection for international travel used to be Europe," he observed, emphasizing the contention that, more and more, that place is the Middle East.
While Beckman did not make any particular case for the role of Emirates in this new reality, he did not have to. Emirates, now the world's largest international carrier, has more wide-bodied aircraft than any other carrier, and has a number of the longest non-stop flights of any airline. Reinforcing the notion—the singular importance of the Middle East as a point of connection for long-haul travel—is the fact that, just 80 miles from Dubai International Airport, which is the home base of Emirates, is Abu Dhabi International Airport , which is the home base of the other major carrier located in the Middle East, Etihad Airways. (And bordering the UAE is Qatar, home base of another major international carrier from the Middle East—Qatar Airways.)
Abu Dhabi's is just one of 13 international airports that has a U.S. Customs and Borders Protection (CBP) pre-clearance facility. Connecting passengers going to the U.S. use the facility and then land in the U.S. in the same fashion that a domestic passenger arrives at an American airport. Dubai, meanwhile, is one of a small number of international airports under consideration by CBP for a future pre-clearance facility, but such a designation is not likely to come any time soon. The problem is that Dubai's international airport has open terminals with common space, whereas a CBP facility requires a closed, seamless connection from arrival (as it does at Abu Dhabi) to the U.S. gates.
What helps make Emirates such a major player internationally is its financial freedom. It was founded (in 1983) and is supported by Dubai's royal family. It does not belong to any international airline alliance, so, explained Beckman, it has the flexibility to pursue routes and grow as it sees fit.  (Etihad, established just 12 years ago by royal decree, also has no problems with financial backing.)
Some U.S. suppliers, particular those seeking to sell to Asian markets—especially India—have found that the three Middle East-based international carriers (Emirates, Etihad, Qatar) offer connecting routes and aircraft suited to long-haul travelers, including large groups, that are still at the core of the inbound tourism market.
Beckman, whose background includes tenures at United Airlines and China Airlines, and is accustomed to working in a multinational environment, pointed to this as a reason for the success of Emirates. Its staff, he said, represents "more countries than there are in the UN."
The Bottom Line: Noting that international tourism marketing is still a business that requires person-to-person and face-to-face contact, Beckman urged delegates to the RTO Summit to take part in sales missions and trade shows in the Middle East. "If you don't go over there in person, you're missing out," he said, adding, "it's about relationships." To those who might feel unease about travel to the region, he noted, "As uncomfortable as you are going there … it's just as uncomfortable for them coming here."
The potential is great, he stressed, reminding delegates that the travel budgets of travelers from the Middle East are not constrained by shifts in the value of the dollar or the size of a travel party. Because of the financial resources of the traveling population of the UAE and other Gulf nations, "the bottom line is that they fly wherever they want to fly."
Receptives and Hoteliers—They Just Don't Understand Each Other
To hear them talk about it in polite language and civil tones, there is really not any problem at all. They simply agree to disagree. "They" are receptive tour operators and nemesis-partner-collaborator—the hotelier. And at NAJ's recent RTO Summit in Orlando, they tried addressing the subject—"What Prevents Hotels from Working with Receptives?"—in a panel discussion that included Shannon W. Derrick, senior director, global sales, Wyndham Hotel Group and Peter van Berkel, president of Travalco, a well-known receptive tour operator who is based in Hallandale, Fla. NAJ's chief advisor, Jeff Hentz, moderated the discussion.
As Derrick put it, "We need to educate the operator so they can understand (our) business." Receptives, he added, should learn "about the value, the length and the frequency of their business and what they (hotels) can gain from it."
As van Berkel put it, "We have to educate the hotels." He specifically pointed to dynamic pricing as a culprit that makes the relationship between receptive and hotelier difficult: "Keep in mind … that hotels that only work in the dynamic (pricing) way are limiting their ability to have their product included in our packages."
Derrick, on the other hand, identified the practice of receptive tour operators dealing with individual hotels as a problem area. He suggested that receptives go through his company's global sales team, which deals with international operators worldwide, thus enabling the corporate sales staff to identify individual market needs and better capture their business.
He also noted that Wyndham adds new hotels to its inventory at a rate of four or five a day, offloading a smaller number every day. Its global sales office has the capability of directing business to destinations that were not in a receptive operator's posted inventory—matching properties to client needs.
The latter point seemed to bridge part of the difference between Derrick and van Berkel, with van Berkel indicating that receptive tour operators could probably do a better job at convincing hotels that their group business is not low-yield. "The U.S. can never sell itself as cheap … (it) is a long-haul destination, a luxury destination."
A case in point, he related, has to do with the current value of the euro—currently at an all-time low against the U.S. dollar. The luxury market, van Berkel suggested, has kept coming to the United States.
Did the NAJ Camera See You at the Summit?
Greeting delegates at the RTO Summer are Betsy Cooper, project manager for the NAJ Group (left); and Sofia Williamsson, the NAJ Group's chief operating officer.
Jesus Garcia, manager, international sales and marketing, Atlanta CVB, listens to a presentation on current travel market conditions in Brazil.
Taking in an update on the potential of the inbound market from India are: Shannon Derrick, senior director, global sales, Wyndham Hotel Group; and Nancy Jepson, director, global sales, Wyndham Hotel Group.
Eduardo Bittencourt, managing director, CH Travel, an Orlando-based receptive tour operator, explains why delegates should not give up on the market from Brazil.
A portion of the more than 125 delegates—both buyers and suppliers—who showed up for the RTO Summit in Orlando.
Malcolm Smith, senior vice president of business development and general manager of IPW for US Travel, is among those following a discussion on the relationship between hoteliers and receptive tour operators.
Walking delegates through the NAJ website, TheTourOperator.com (soon to be re-branded as TourOperatorLand.com) during the RTO Summit luncheon on Monday is Betsy Cooper, the NAJ Group's project director.
Uri Argov, founder and CEO of Tourico Holidays, responds to a question from the audience on the impact of the strong U.S. dollar (vs. the Euro) on inbound tourism to the USA from Europe.
Multimedia notes: Adrienne Chiron (left) CEO of Travel Trackers, a Miami-based receptive tour operator, takes notes and checks messages on her smartphone, while Renee Ambos, sales manager for Fun Spot America, a popular Kissimmee-Orlando theme park collection, uses a college-ruled notebook for backup.
A familiar presence at the RTO Summit series of conferences, Sally Davis Berry, tourism sales and marketing manager at the Corning Museum of Glass, follows the program as she awaits a segment in which she will make a presentation on her company's product.
Waiting to respond to a question during a discussion of working the MICE and leisure markets at US Travel's IPW trade show are this group of panelists (left-right): Tara Hippensteel, national sales director, tour and travel, North America, for Hard Rock International; Janice Bennett, director of travel industry & group sales, Circle Line Sightseeing Cruises, World Yacht & North River Lobster Company; Nancy Hahn Bono, senior global development director, Visit Orlando; and Estelle Miller, director of tourism development, Hornblower Cruises and Events.
Jay Santos, vice president of travel industry sales and marketing, Visit Orlando, explained to delegates that, in promoting to the Brazilian travel market, his organization made a decision to focus on class "A" and "B" upscale consumers who, unlike middle-class "C" consumers, have been able to travel despite a weakened national economy and a declining Brazilian Real vs. the U.S. dollar.
(More coverage of the RTO Summit in Orlando to come in the next issue of the Inbound Report.)
---
---
LA­­­X OK's Use of New VIP Terminal for $1,800 per Flight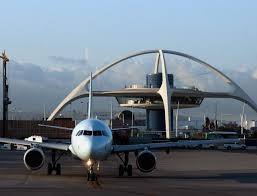 Commissioners at Los Angeles International Airport (LAX) have approved a proposal to build an "ultra VIP" terminal for A-list celebrities to help them avoid the cameras of the paparazzi. The proposal calls for the redevelopment of a cargo hanger into a VIP terminal for high net-worth flyers. For a fee of up to $1,800 per flight, celebrities and diplomats will be able to go to their own terminal complete with its own security screening, passport control, and executive lounges. They will then be driven directly to the plane when it's time to board. While most U.S. airlines offer special services and priority boarding for celebrities and other VIPs, the LAX move is the first to completely separate them from plebian class.
The timetable for the new terminal calls for a temporary facility to open at LAX by the middle of next year while a permanent terminal is constructed. Private celebrity security firm Gavin de Becker and Associates, which will operate the terminal, has targeted revenue of about $34 million during its first 10 years of operation. The facility's design is based on the Windsor Suite at London Heathrow Airport which was originally used exclusively for the royal family and visiting diplomats but is now open for anyone for a $3,000 fee. If successful, the concept may be rolled out at other major airport locales such as New York's JFK International Airport.
Will Outbound Travel by Chinese Cool off in 2016?
The results of a just-released survey indicate that the Chinese don't plan to travel as much in the next year. The latest semi-annual travel survey (of 3,572 Chinese residents) by UBS said this: "The average number of trips (excluding to Hong Kong and Macau) planned for the next 12 months is 2.1 per survey respondent, down from 2.6 in our April survey," according to analysts Eric Lin and Tiffany Chen. The investment bank seemed confident about the findings, adding, "the key [future] trends have generally been in line with our survey results."
The survey projections come in the wake of a shakeout among the top travel agencies in China. Some analysts believe that online giant Ctrip brand has lost some of its power with the acquisition of 25 percent of the company by Baidu. Also, suggested an item in Barron's Asia, "Ctrip has lost mind share" in both hotel and air ticket bookings, because of strong brand-building and promotions among its competitors. All major Chinese travel agencies conduct most of their transactions online.
Top Travel Agency Websites in China
| Website & Rank | Name in Chinese |
| --- | --- |
| Ctrip | 携程 |
| Elong | 艺龙 |
| Qunar | 去哪 |
| Lvmama.com | 驴妈妈) |
| Mafengwo.com | 马蜂窝 |
| Baidutravel | 百度旅游 |
| Lvping | 驴评网 |
| Daodao | 到到网 |
| Yododo | 游多多 |
| Source: ChinaTravelDiscovery.com | |
| | |
HODGE PODGE: Shifts, Shakeups and Occasional Shaftings in the Tour and Travel Industry
Gov. John Hickenlooper has named Cathy Ritter, a one-time state tourism director in Illinois, as the new director of the Colorado Office of Tourism Office. She succeeds Al White, a former state senator who held the post for four-and-a-half years before resigning last June. Ritter served as director of the Illinois Bureau of Tourism from 1999-2003. Before moving to Colorado last year, she held the post of vice president of marketing and communications for several businesses. Most recently, she was with Wesley Life, a Des Moines, Iowa-based company that specializes in senior living facilities and services.
---
Tourico Holidays is in the process of hiring 15 new employees for its Latin American sales and marketing operations by January 1st. They will join its current roster of 25 employees in offices in Cancun, Mexico, Mexico City, Mexico, Buenos Aires, Argentina and São Paulo, Brazil, as Tourico, which increased its year-on-year sales through October by 70 percent, seeks to increase sales in Latin America by 80 percent next year. As a part of its growth effort, the company has appointed Gisela Blok, who has served as director of product for Mexico, to direct a combined sales and product operation for Mexico and Central America.
---
In Mississippi, Malcolm White has stepped down from his post as director of the state tourism office, Visit Mississippi, which is a division of the Mississippi Development Authority. White, who held the position for three years, said he was leaving to pursue new opportunities in the creative sector. Before joining the tourism division, White served seven years as executive director of the Mississippi Arts Commission.
---
The Albuquerque CVB has announced a change in leadership. The bureau's board of directors unanimously voted to select Tania Armenta—she is the current chief operating and marketing officer for the CVB who has been with the bureau for 17 years—as its new president and CEO starting Jan. 6. Armenta replaces Dale Lockett, who will be transitioning out of his role as president and CEO at the end of his contract, Jan. 5, 2016,
---
Don Shearer has resigned as CEO of Worldchoice Ireland and will complete his tenure at the end of December. After two successful years on the job, Shearer wants to pursue new interests.
---
Simon Daly, director of long haul with Topflight, Ireland is leaving the company. Simon will continue with Topflight until the end of November.
---
Joey Robinson has been promoted to the post of senior vice president of Big Bus Tours of Chicago. Since April, he had been project general manager in Chicago, after moving to the area from New York City where he was head of sales and marketing for Big Bus Tours New York City. Previously, he was director of business development for Destination Experience, a division of Bookit.com.
---
TUI Austria has named Lisa Weddig as its chief operating officer. She will be in charge of flights, quality management, service centers, groups and the Gulet brand.
---
Jytte Kolbe-Toft has taken over as managing director of InterChalet, the Hotelplan Group-owned holiday homes company. She succeeds founder Michael Heines, who has retired after 41 years as head of the business.
---
Specialist hiking tour operator Hauser Exkursionen has put in place a succession plan: Ovid Jacota (left), formerly with Wikinger Reisen, will take over as managing director in January 2017 from Manfred Häupl (right) who will retire after 30 years but remain company owner.
---
Peter van Berkel, president of Travalco, which is based in the Miami area, tells us that in order to grow its European sales and marketing presence, the company has retained Alberto Boeri of NAD Representation for its operations in the UK, and Silvia Trinchero of ST Travel Reps to represent the company in France.
---