Orlando Mass Murderer Apparently Scouted Disney World as Well
According to different sources, Disney security officials have told FBI investigators they believe that Omar Mateen, the mass murderer responsible for the deaths of 49 people at Pulse, a gay bar in Orlando, visited Disney World on April 26. Mateen's wife, Noor Salman, was with him on the Disney World visit. Authorities are investigating whether she knew about her husband's intent.
This is one of the developments in the aftermath of the mass killing that took place early Sunday morning, June 12th. Mateen, a U.S.-born citizen who was said to have visited the bar on a regular basis, gunned down 49 people and wounded more than 50 others before he was killed by police.
In the aftermath of the killings—it is the worst mass murder in U.S. history—a conflicting profile of the 29-year-old killer has emerged. He has been described as a friendly regular at Pulse, while other accounts have described him as a homophobic bigot.
In addition to the trip to Disney World, Mateen also made a visit earlier this month to the Pulse Nightclub and Disney Springs—an outdoor shopping, dining, and entertainment complex at the Walt Disney World Resort in Bay Lake—apparently to conduct surveillance. He went alone on this trip.
IPW Host City New Orleans Gets Non-Stop Flight from Germany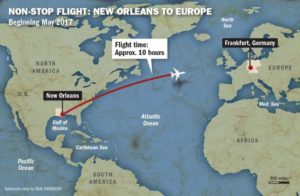 Just in time for travel buyers who will be attending the upcoming (June 18-22) IPW in New Orleans, the German airline Condor—it is owned by Thomas Cook UK—announced that it will launch Frankfurt-to-New Orleans air service beginning next May. The flights will be twice each week, from May to October. This will be the city's first non-stop flight from Germany in more than 30 years.
For the most part, international travelers to the U.S. who want visit New Orleans have relied on connections through the hubs of major U.S. carriers, with Atlanta and Houston benefiting from such traffic. Announcement of the new flight service from Frankfurt was also an occasion to note that the city hopes to attract 13 million visitors a year by 2018.
Miami-based National Airlines operated the first nonstop flight from New Orleans to Europe in the late 1970s. National was acquired by Pan American Airways in 1980 (Pan Am itself went under in 1991) and consumer demand in subsequent years wasn't enough to entice another airline to fill the void.
At a news conference called to announce the new flight service, Louisiana and New Orleans officials expressed the hope that the move by Condor/Thomas Cook will encourage other overseas airlines to take up direct service to New Orleans. The travel and tourism industry in the city has been seeking a direct connection to London. Several industry leaders said at the news conference that discussions aimed at securing a London flight, but they offered no specifics.
With the Condor announcement, New Orleans now has four non-stop international routes. The other three are: Copa Airlines, Panama to New Orleans; Air Canada, Toronto to New Orleans; and Delta Air Lines, New Orleans to Cancun.
What Else is New in International Air Service:
| Carrier | From | To | Date | Comments/Aircraft/Frequency |
| --- | --- | --- | --- | --- |
| airberlin | Dusseldorf, Germany | San Francisco, CA | Now | Nonstop; A330-200; 5x weekly |
| Air Canada | Delhi, India | Vancouver, BC, Canada | 10/20/2016 | Seasonal non-stop; Boeing 787-9; 3x weekly |
| Delta | Tokyo Haneda, Japan | Los Angeles, CA | 10/29/2016 | Subject to government approval; daytime; |
| | | | | Boeing 777; daily |
| United Airlines | Tokyo Haneda, Japan | San Francisco, CA | 10/29/2016 | Daytime; Boeing 777-200ER and 787-9; daily |
| Volaris | Durango, Mexico | Los Angeles, CA | Jun-16 | A320; 2x weekly |
| (Note: You'll find wall-to-wall coverage of IPW in the next issue of the Inbound Report, which will appear in two weeks. Watch for it.) | | | | |
(Note: You'll find wall-to-wall coverage of IPW in the next issue of the Inbound Report, which will appear in two weeks. Watch for it.)
Numbers Point to a Better Year Ahead for Japan
Coming out in just about any day now will be the next quarterly survey of the nation's tour operators and travel agents by the Japan Association of Travel Agents (JATA)—on the outlook for booking activity for outbound travel in the coming quarter (July-September). The Inbound Report will go out on a limb and predict that the results will show that the Japanese travel trade will be optimistic about prospective activity for the third quarter of this year, following up on the last quarterly report in which the outlook for the current quarter was up by about a third over the same period in 2015.
One of the reasons for this outlook is that the Japan National Tourism Organization (JNTO) has reported a 7 percent increase in that the estimated number of Japanese overseas travelers in April 2016 (vs. the same month in 2015). In fact, the estimated 1.2 million outbound travelers for April marked the fourth consecutive month in which outbound travel volume has increased, year-over-year. Unfortunately, JNTO had no hard figures for some specific country markets, while the source page on its website has spotty information on other markets, and none for the continental U.S. However, traffic in the months of February and March for Hawaii augur well for mainland figures. We've assembled some numbers for key outbound destinations for Japanese travelers below.
Japanese Departures to
Selected International Destinations
February & March 2016: Change vs. 2015
| Country/Market | February 2016 Departures | Change vs. February 2015 | March 2016 Departures | Change vs. March 2015 |
| --- | --- | --- | --- | --- |
| Korea | 144,493 | 1.30% | 224,328 | 2.50% |
| China | 182,600 | 10.30% | NA | NA |
| Thailand | 133,581 | 3.30% | 124,240 | 5.10% |
| Vietnam | 59,291 | -0.10% | 69,287 | 13.10% |
| Canada | 17,550 | 25.70% | 17,858 | -3.90% |
| Hawaii | 115,731 | 0.80% | 126,943 | -0.70% |
| Source: Japan National Tourism Organization | | | | |
It's been several years since anything suggesting recovery has crept into the projections and predictions for Japanese visitor traffic to the USA. The most recent forecast from the U.S. Department of Commerce's National Travel and Tourism Office (NTTO) illustrates the point.
Forecast for Arrivals from Japan
| Year | Arrivals (000s) | Change vs. Previous Year |
| --- | --- | --- |
| 2014 | 3,620 | -3% |
| 2015 | 3,548 | -2% |
| 2016 | 3,512 | -1% |
| Note: 2014 figures are actual; those for 2015, 2016 figures are forecast. | | |
| Source: Spring 2015 forecast of U.S. Department of Commerce's National Travel and Tourism Office | | |
Confidence in the nation's economic standing seems to have increased. In its Monthly Economic Report last month, the Japanese government said that "the Japanese economy is on a moderate recovery, while weakness can be seen recently." Concerning short-term prospects, the government said "the economy is expected toward recovery, supported by the effects of the policies, while employment and income situation is improving. However, there are downside risks of the Japanese economy including slowing down of emerging Asian economies including the Chinese economy and countries with natural resources amid the weakness of overseas economies. In addition, attention should be given to the increased uncertainty in overseas economies …"
Also, the Japanese Yen has stabilized in its relationship vs. U.S. dollar. Click on the following link to see a table which traces the dollar-yen exchange rate for the past two years: http://www.xe.com/currencycharts/?from=USD&to=JPY&view=2
Delta Drops Sponsorship with Atlanta Theatre over Party for Qatar Airways as Competition with Middle East Airlines Gets Nasty
Just another Episode in Fierce Competition Involving India, the Middle East and More
From the pitcher's mound at Dodger Stadium in Los Angeles to the Fox Theatre in Atlanta, the battle for a share of the growing overseas market from India is being waged both on and off the front pages and website home pages at levels that are creative and sometimes entertaining. Take a look at this Emirates promotion at Dodger Stadium last month to promote an expansion of the airline's Doha-to-Los Angeles A380 service: (https://www.youtube.com/watch?v=chhh4-2plYY).
The battle pits Air India, the nation's flag carrier, against carriers in the Middle East who have connecting flights between the USA and India that have become very popular. It also pits U.S. carriers against carriers from the Middle East. U.S. carriers, in particular Delta Air Lines, charge that the latter are, effectively, government-supported and have an advantage over U.S. carriers, which would like to see them barred from landing at U.S gateway airports. But U.S. carriers have made no progress in persuading federal regulators, Congress or the Obama Administration to change or amend the USA's Open Skies policy and restrict entry into the U.S. by the Middle East-based airlines.
Regardless of how one might feel about the Open Skies debate or how much others might root for India's flag carrier, the situation at present bodes well for U.S. travel suppliers and destinations hoping to tap into what is a lucrative source market that is growing larger and will continue to grow larger as lift capacity no longer seems to be an issue.
A Quick Background: First, the market from India has, in one sense, always been there. For instance, a decade ago, one study put the size of the (travel capable) middle class in India, where more than one-fifth of the nation lives beneath the poverty line—at 50 million people. And now, in 2016, according to India's National Council of Applied Economic Research (NCAER), India's middle class population is estimated to be 267 million. In another decade, by 2025-26, the number of middle class households in India is likely to more than double from the 2015-16 levels to 113.8 million households or 547 million individuals.
Second, a cursory look at India's international outbound travel suggests that they first like to visit nearby regional destinations (Thailand, for instance, is a favorite) with European destinations, particularly France, their long-haul favorites. As for the U.S., as members of a group of more than 40 Indians told us when we accompanied them on part of a tour through the U.S. Mid Atlantic several weeks ago, it is an aspirational destination. That is, were it possible, Indians really want to visit the USA.
Third, more than any other nation, Indians have a strong VFR connection. Scores of thousands of expatriate Indians populate the Boston-to-Philadelphia corridor in the Northeast and California's Silicon Valley. Also, India has more students going to college, graduate and high schools in the U.S. than any other nation except China. In the 2014-2015 academic year, 132,888 students from India were studying in the United States (up 29.4 percent from the previous year).  Students from India comprise 13.6 percent of the total international students in the United States
Finally—there is more following the table below—lift capacity to the USA has increased, both in direct flights and in connecting flights, especially by carriers based in the Middle East. The 7,000-plus mile journey to the United States is no longer a daunting obstacle to those from India who want to visit friends and relatives or buy a tour package.
A 20-Year Timeline:
Arrivals to the USA from India
2001-2020*
(000s)
| Year | Arrivals | % Change over Previous Year |
| --- | --- | --- |
| 2001 | 270 | -2% |
| 2002 | 257 | -5% |
| 2003 | 272 | 6% |
| 2004 | 309 | 13% |
| 2005 | 345 | 12% |
| 2006 | 407 | 18% |
| 2007 | 567 | 39% |
| 2008 | 599 | 6% |
| 2009 | 549 | -8% |
| 2010 | 651 | 18% |
| 2011 | 663 | 2% |
| 2012 | 724 | 9% |
| 2013 | 859 | 19% |
| 2014 | 962 | 12% |
| 2015 | 1,087 | 13% |
| 2016 | 1,163 | 7% |
| 2017 | 1,221 | 5% |
| 2018 | 1,283 | 5% |
| 2019 | 1,347 | 5% |
| 2020 | 1,414 | 5% |
| *Figures for the years 2015-2020 are forecast figures | | |
| Source: U.S. Department of Commerce, International Trade Administration, U.S. National Travel and Tourism Office | | |
The Middle East Connection: The data above correlate strongly with the growth in capacity of the three major airlines based in the Middle East: Qatar Airways, Emirates and Etihad. The latter is only 13 years old, while the others—in business a little longer—began to expand significantly in the early 00s. Combined, the three have more wide-body, large capacity aircraft than any single carrier. And all are well-funded. Because of government-and/or-royal family backing in each country, none of the carriers has any financial worries.
With their financial grounding, the base area of three carriers has emerged as the world's major global connection location—a designation that used to be reserved for major western European cities. And their base operations make them virtual "neighbors next door." Qatar Airways operates out of Hamad International Airport; Etihad is headquartered at Abu Dhabi International Airport; and Emirates is based at Dubai International Airport. All three have numerous flights to destinations throughout India.
Distance between Base Airports of Etihad, Emirates and Qatar Airways
| From | To | Distance |
| --- | --- | --- |
| Dubai International Airport | Abu Dhabi International Airport | 83 miles |
| Dubai International Airport | Hamad Int'l. Airport (Qatar) | 241 miles |
| Abu Dhabi International Airport | Hamad Int'l. Airport (Qatar) | 187 miles |
| Source: Prepared by Inbound Report | | |
How They're Connected: Once the passenger on a flight from India (aboard Etihad, Emirates or Qatar Airways reaches one of the three airports above) they are readily connected to the North America/USA.
—From Dubai International Airport, Emirates flies to: Boston, Chicago, Dallas Ft. Worth, Houston, Los Angeles, New York-JFK, San Francisco, Seattle/Tacoma, Washington Dulles and Toronto-Pearson. Also, Air India, which connects at Dubai International Airport, flies to/from Bangalore, Chennai, Delhi, Goa, Hyderabad, Kochi, Kozhikode, Mumbai, Visakhapatnam.
—From Abu Dhabi International Airport, Etihad has flights to Chicago, DFW, Los Angeles, New York (JFK), SFO, Washington-Dulles and Toronto-Pearson. (Air India flies from this airport to and from Mumbai.)
Etihad has a special feature that makes it the most popular connecting point to the USA. It is just one of 15 foreign airports in six different countries—and the only airport in Europe or the Middle East—with a U.S. Customs and Borders pre-inspection facility. Passengers connect here have their baggage check and go through their "arrival" check here. So, when they reach the U.S., their arrival is no different than if it were on a domestic U.S. flight.
—From Hamad International Airport, Qatar Airways serves Boston, Chicago-O'Hare, Dallas/Fort Worth, Houston-Intercontinental, Los Angeles, Montréal-Trudeau, New York-JFK, Philadelphia, Washington-Dulles and, recently added, Atlanta. (From the same airport, Air India Express serves Kochi, Kozhikode, Mangalore and Mumbai.)
The Response from India: According to a report by Saurabh Sinha in the Times of India, Air India is switching into an expansion mode and has decided to add 100 planes to its current fleet of 132 in the next four years. All airlines within the group — parent Air India, Air India Express and Alliance Air — will get more aircraft under the plan.
"By March 31, 2020, Air India group will have 232 planes. While 9 aircraft (six Boeing 787s and three B-777) are from the previous order (of 111 planes), the rest will be new orders for leasing planes. We are going to grow aggressively and fight for leadership across segments," said Ashwani Lohani, Chairman, Air India, who said that the carrier will be looking at one-stop flights to the U.S., in addition to its non-stops. Currently, Air India has direct service from India to Chicago, Newark's Liberty International, New York's JFK and San Francisco.
U.S Airlines—Party Poopers: An indication of just how fierce the competition is for traffic to, from and through the Middle East came last week when Atlanta-based Delta announced that it would not renew its long sponsorship of the city's historic Fox Theatre because of a performance at the theatre which celebrated new flights out of Atlanta by Qatar Airways. Qatar had hired A-list entertainer Jennifer Lopez to perform at the historic Atlanta before a crowd that included Qatar's CEO Akbar Al Baker. Delta said because of the performance it will not renew its sponsorship of the Fox Theatre after more than 20 years of support.
Then, when the first flight of the new service—Qatar Airways used an A-380 aircraft—landed in Atlanta, Delta Air Lines declined a request from airport officials to make available one of the limited number of gates at Hartsfield-Jackson International Airport big enough to accommodate the wide-bodied aircraft. According to news accounts, the airline said that it develops its flight schedules and plans for gate usage months in advance, and couldn't find a viable option to move its aircraft in the time allotted, adding that it would have had to move multiple aircraft to make room for the A380.
As a result Qatar Airways passengers were forced to de-plane by using old mobile staircases and then were transported by buses to the terminal. In subsequent flights, Qatar plans to use Boeing 777s for the route; they fit more easily into traditional gate space.
Going Forward: In the near term, at least, barring some calamity or political disruption, the Middle East-based carriers seem to have almost limitless resources to increase the size of their aircraft fleets and promote their routes through every conceivable channel imaginable—from public relations to sponsorships of soccer teams worldwide, along with countless special events. Air India and U.S. airlines as well, are going to have to develop ways of competing and connecting to open additional lanes to India—because the growth of inbound traffic from India seems certain to continue its steady increase. This battle among major international carriers to provide service between the market and the United States can only benefit the U.S. travel suppliers and destinations hoping to gain share of the market.
 (Note: You'll find wall-to-wall coverage of IPW in the next issue of the Inbound Report, which will appear in two weeks. Watch for it.) 
NAJ to Share IPW Booth with Two Suppliers
The NAJ Group† has decided that, each year, it will share its TourOperatorLand booth at IPW with two hand-picked suppliers who offer unique experiences for the 88 operators who are scheduled to visit the booth.
One of the suppliers this year is Academy Ground Transport (www.academyride.com), whose name provides a clue as to the provenance of their original source of business:  transporting VIP A-list celebrities to award shows such as the Oscars, the Emmys, and the Golden Globes throughout Southern California due to their reputation for discretion and professional punctuality.  What happens in the limo stays in the limo. Since then, they have expanded into tour and travel, VIP, airport meet-and-greets and transportation for tour operators promoting MICE.
"Betsy Cooper, our tour operator community marketing manager, and I have used them for the past three years to transport us between receptive tour operator presentations in LA," said NAJ founder and CEO Jake Steinman, "and we felt that, with the tour operators' fixation with U.S. celebrity culture, Academy would be a good partner in our booth."
The other supplier, RMP Travel, is a well-known and long-time receptive tour operator whose president, Suzi Steiger, has made a name for the company as a small-to-mid-size New York City-based receptive operator with a lengthy history specializing in MICE groups including medical/pharmaceutical meetings  and incentive programs throughout major cities in the U.S.
"RMP, in my opinion, has been one of the most creative incentive and MICE tour operators in New York. For over 40 years, it has been able to withstand the ups and downs of the economy," stated Steinman. "The other unique service RMP offers which surprises so many international clients is its access to more than just group-discounted tickets to Broadway and Off-Broadway; they also include workshops for singing, acting, dancing and production."
When asked to offer an outlook on what business looks like for the remainder of 2016 and 2017, Steiger told us this: "The initial outlook for our bookings for this year have indicated an increase in numbers.  However, our clients seem to be experiencing a slow booking process, so the final outcome is not yet clear."
She'll have a better idea on what the near-term future holds once she's gone through this year's IPW experience. "Last year was our first return to IPW in a number of years," she explained. "Previously, we had attended regularly but took a break as there seemed to be little group and MICE business.  We were pleasantly surprised to see a very positive mix of both and have chosen to once again be a part of our industry's most important trade show." (For more information, visit www.rmptravelinc.com)
###
† The NAJ Group is publisher of the Inbound Report.
(Note: You'll find wall-to-wall coverage of IPW in the next issue of the Inbound Report, which will appear in two weeks. Watch for it.)
How Many of These Industry Leaders do You Know?—New Travel & Tourism Advisory Board Named
Just prior to IPW, U.S. Secretary of Commerce Penny Pritzker has announced the appointment of 32 members to the Travel and Tourism Advisory Board (TTAB). First chartered in 2003, TTAB serves as the advisory body to the Secretary of Commerce on matters relating to the travel and tourism industry in the United States. The board members represent a broad spectrum of the travel industry, including hotels and restaurants, financial services, transportation services, as well as a variety of small and large firms from across the country. The newly appointed members of the Travel and Tourism Advisory Board are:
—Chair: John Sprouls, Executive Vice President and Chief Administrative Officer, Universal Parks and Resorts, Orlando, Fla. *
—Vice Chair: Margaret McKeough, Executive Vice President and Chief Operating Officer, Metropolitan Washington Airports Authority, Washington, D.C. *
—Vice Chair: Greg Stubblefield, Executive Vice President and Chief Strategy Officer, Enterprise Holdings, St. Louis, Mo. *
—George Aguel, President and CEO, Visit Orlando, Orlando, Fla.
—Ted Balestreri, President and CEO, Cannery Row Company, Monterey, Calif.
—Helane Becker, Managing Director, Cowen and Company, New York, N.Y. *
—Thella F. Bowens, President and CEO, San Diego International Airport, San Diego, Calif.
—Bruce Charendoff, Chief Public Policy Officer, Sabre, Southlake, Texas
—Henry Cruz, Senior Partner, The CrossBrook Organization, LLC, Alexandria, Va. *
—Todd Davidson, CEO, Travel Oregon, Salem, Ore. *
—Brad Dean, CEO, Myrtle Beach Area Chamber of Commerce, Myrtle Beach, S.C. *
—Fred Dixon, Chief Operating Officer & General Counsel, NYC & Company, New York, N.Y. *
—Kurt Ekert, President and CEO, Carlson Wagonlit Travel, Minneapolis, Minn.
—Elliott Ferguson, President and CEO, Destination DC, Washington, D.C. *
—Mike Gallagher, Co-founder and Co-chairman, CityPASS, Victor, Idaho *
—Adam Goldstein, Co-founder and CEO, Hipmunk, San Francisco, Calif.
—James Hagen, Secretary, South Dakota Department of Tourism, Pierre, S.D. *
—Nick Hentschel, Vice President, AmericanTours International, Los Angeles, Calif.
—Taylor Hoang, Owner, Pho Cyclo, Seattle, Wash.
—Adam Medros, Senior Vice President for Global Product, TripAdvisor, Needham, Mass.
—Steve Morrissey, Vice President, Regulatory and Policy, United Airlines, Chicago, Ill.
—Mary Motsenbocker, President, International Tourism Marketing, Inc., Englewood, Colo.
—Susan Presby, Owner/Director of Sales, Mt. Washington Cog Railway, Bretton Woods, N.H.
—Tricia Primrose, Global Chief Communications & Public Affairs Officer, Marriott International, Bethesda, Md.
—Olga Ramudo, President and CEO, Express Travel, Miami, Fla. *
—Sherry Rupert, President, American Indian Alaska Native Tourism Association, Albuquerque, N.M. *
—Adam Sacks, President, Tourism Economics, Philadelphia, Pa.
—Gary Schluter, General Manager, Rocky Mountain Holiday Tours, LLC, Fort Collins, Colo.
—Marty St. George, Executive Vice President Commercial and Planning, JetBlue Airways Corporation, New York, N.Y.
—William Talbert, President and CEO, Greater Miami Convention & Visitors Bureau, Miami, Fla. *
—Denise Thevenot, Executive Director, Louisiana Tax Free Shopping, New Orleans, La.
—Ernest Wooden Jr., President and CEO, Los Angeles Tourism and Convention Board, Los Angeles, Calif.
*Denotes reappointed Travel and Tourism Advisory Board member
(Note: You'll find wall-to-wall coverage of IPW in the next issue of the Inbound Report, which will appear in two weeks. Watch for it.)
HODGE PODGE: Shifts, Shakeups and Occasional Shaftings in the Tour and Travel Industry
Brand USA has announced the appointment of Tom Garzilli as the agency's new chief marketing officer. Garzilli, who joined the organization in February 2013, had served served as senior vice president, global partnerships. Prior to joining Brand USA, Garzilli was a managing partner with Custom Marketing Group, a destination, marketing and custom publishing company he co-founded in 1991. Prior to that, he was vice president, marketing for American Express Vacations. Garzilli succeeds David Whitaker, who held the CMO position for little more than a  year before taking on the post last week of president and CEO of Choose Chicago.
---
Lara Salamano has been named the new chief marketing officer at the Rhode Island Commerce Corporation, which oversees the state's tourism marketing efforts. Salamano succeeds Betsy Wall, who was fir last April after a promotional campaign themed "Rhode Island: Cooler and Warmer" was met with both criticism and derision. Among the campaign's offenses was the use of stock footage filmed in Iceland for a Rhode Island video. Salamano, who apparently has no background in the travel and tourism, leaves her job as vice president, partner marketing for Pop, a joint venture of CBS Corporation and Lionsgate. She is a veteran entertainment marketer working primarily for large corporate media companies in New York City.
---
Mark Schwab, a member of the Brand USA board of directors, will retire the end of 2016, from his post as CEO of Star Alliances Services, the airline group that includes United, Airlines, Air China, Air India, ANA, Asiana Airlines, Air Canada and 27 other carriers. Succeeding Schwab will be Jeffrey Goh, 47, who is currently chief operating officer and general counsel for Star Alliance. Before joining Star Alliance, Schwab held numerous senior-level positions in the airline industry at United Airlines, US Airways and American Airlines.
---
Reed Exhibitions has announced the promotion of Fernando Fischer as president of the company in Brazil. His predecessor, Juan Pablo de Vera, takes over as senior vice president of business development for Latin America. Both will report to the current president for the Americas (Americas RX), Hervé Sedky. Prior to joining Reed Exhibitions, Fischer served as CEO of various sectors and countries and also in the development of startups. He will lead the strategy of focusing on supporting sectors and clients, portfolio diversification and development of strong brands events.
---
Wasserstein Partners has acquired Northstar Travel Group from the Wicks Group of Companies. The Secaucus, New Jersey-based Northstar owns a range of brands including the Travel Weekly, TravelAge West, Business Travel News and Travel Weekly China, as well as research, business intelligence and event producer Phocuswright. Wasserstein & Co. is an independent private equity and investment firm, with offices in New York and Los Angeles. Northstar's current management team, including CEO Tom Kemp, will remain in place.
---
The Hawaii Tourism Authority has appointed Kalani Kaanaana as its new director of cultural affairs—a move that follows by some six months the abrupt and controversial departure of Keli'i Wilson from the position. Wilson is a Native Hawaiian whose parents were pioneers in the Hawaiian language immersion program. Kaanaana from graduated Kailua High School and from the University of Hawaii at Manoa, is fluent in Hawaiian and served as a student marshal for the Hawaiinuiakea College of Hawaiian Knowledge. Kaanaana also served as a legislative aide to State Rep. Ken Ito and State Rep. Pono Chong.
---
Kate Hartley recently joined Phoenix, Arizona-based DETOURS as director of marketing. Previously, Hartley, who began her career in the travel and tourism industry working as a front desk agent, reservations manager and group rooms coordinator for Hilton Hotels, served as director of public relations for Local Motors Inc., a Phoenix area customizer of sport and luxury vehicles.
---
The Hawaii Tourism Authority (HTA) has named Brandstory Asia as its representative in Hong Kong. Reene Ho Phang is managing director of the firm, which has represented a number of U.S. destinations in China and Hong Kong. "It's the right time to have an office here because we believe Hawaii is a destination that millennials as well as ordinary Hong Kong travelers who want new experience and adventures need," Randy Baldemore, HTA's chief operating officer, told TTG Asia.
---
The São Paulo-based operator Agaxtur has announced the appointment of Magda Nassar as its new vice president of marketing and provider of products. Nassar, who also serves as president of Braztoa (Associação Brasileira das Operadoras de Turismo/Brazilian Tour Operators Association), brings with her part of the brand Soft Travel into the Agaxtur, following a merger of the two.
---
Gráinne Caffrey is leaving her post as account manager at Lowcostbeds to join Sunway Holidays in early July in Dublin where she'll be involved with Club Med, AMA Rivercruise, Trafalgar escorted tours, G Adventure,  Neilson, Sunsail and Mark Warner holidays. A veteran of more than 25 years in the tour and travel industry, Caffrey's resumé includes tenures with such companies as Inghams and Falcon Holidays.
---
Marian DiPietro recently joined Blair Hotels in Cody, Wyoming as a manager. She joined from Mayflower Tours, where she served for six years, lastly as tour director. DiPietro is best known for her many years at Tourco, a receptive tour operator that was based in Nobleboro, Maine. Along with her husband, Jerry, she was a co-owner of the company, which she also served as executive vice-president.
---
(Note: You'll find wall-to-wall coverage of IPW in the next issue of the Inbound Report, which will appear in two weeks. Watch for it.)