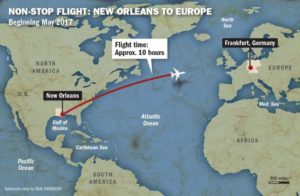 Just in time for travel buyers who will be attending the upcoming (June 18-22) IPW in New Orleans, the German airline Condor—it is owned by Thomas Cook UK—announced that it will launch Frankfurt-to-New Orleans air service beginning next May. The flights will be twice each week, from May to October. This will be the city's first non-stop flight from Germany in more than 30 years.
For the most part, international travelers to the U.S. who want visit New Orleans have relied on connections through the hubs of major U.S. carriers, with Atlanta and Houston benefiting from such traffic. Announcement of the new flight service from Frankfurt was also an occasion to note that the city hopes to attract 13 million visitors a year by 2018.
Miami-based National Airlines operated the first nonstop flight from New Orleans to Europe in the late 1970s. National was acquired by Pan American Airways in 1980 (Pan Am itself went under in 1991) and consumer demand in subsequent years wasn't enough to entice another airline to fill the void.
At a news conference called to announce the new flight service, Louisiana and New Orleans officials expressed the hope that the move by Condor/Thomas Cook will encourage other overseas airlines to take up direct service to New Orleans. The travel and tourism industry in the city has been seeking a direct connection to London. Several industry leaders said at the news conference that discussions aimed at securing a London flight, but they offered no specifics.
With the Condor announcement, New Orleans now has four non-stop international routes. The other three are: Copa Airlines, Panama to New Orleans; Air Canada, Toronto to New Orleans; and Delta Air Lines, New Orleans to Cancun.
What Else is New in International Air Service:
| Carrier | From | To | Date | Comments/Aircraft/Frequency |
| --- | --- | --- | --- | --- |
| airberlin | Dusseldorf, Germany | San Francisco, CA | Now | Nonstop; A330-200; 5x weekly |
| Air Canada | Delhi, India | Vancouver, BC, Canada | 10/20/2016 | Seasonal non-stop; Boeing 787-9; 3x weekly |
| Delta | Tokyo Haneda, Japan | Los Angeles, CA | 10/29/2016 | Subject to government approval; daytime; |
| | | | | Boeing 777; daily |
| United Airlines | Tokyo Haneda, Japan | San Francisco, CA | 10/29/2016 | Daytime; Boeing 777-200ER and 787-9; daily |
| Volaris | Durango, Mexico | Los Angeles, CA | Jun-16 | A320; 2x weekly |
| (Note: You'll find wall-to-wall coverage of IPW in the next issue of the Inbound Report, which will appear in two weeks. Watch for it.) | | | | |
(Note: You'll find wall-to-wall coverage of IPW in the next issue of the Inbound Report, which will appear in two weeks. Watch for it.)