Who are the Top Ten Operators in Germany?
It looks like a recovering Euro, along with a rebound of business in Turkey and northern Africa markets fueled a healthy business year for Germany's tour operators, according the new FVW Tour Operators Dossier.  And, reported FVW, the German travel trade publication, "Most leading tour operators generated solid revenue increases and are optimistic for 2018."
The Dossier comes out each year prior to ITB, which convenes next week in Berlin. Along with an annual report from the German Travel Industry Association (DRV), which is published for ITB, it makes the place and the occasion the premier venue for measure the pulse and condition of the German tour and travel industry.
While there are no breakout data on turnover related to outbound travel to the United States, the Dossier—along with upbeat data from the latest monthly release of overseas arrivals figures from the U.S. National Travel and Tourism Office—seems to suggest that 2018 will be a good year for all components of the tourism industry in Germany.
FVW said that the 7.4 increase rise in tour operator revenues in Germany last year was a much better performance than in 2016 when business stagnated due to a slump in demand for Turkey and North Africa. Last year, tour operators achieved significantly higher average prices, given that the overall number of customers increased by only 2.8 percent in 2017. This was due to a mix of factors, including healthy demand for Spain, Greece and other more expensive Mediterranean destinations as well as strong growth for cruises and other higher-priced holidays.
This year's dossier covers 56 tour operators, which increased their combined revenues in Germany by 7.4 percent to €22.8 billion ($28.1 billion) last year. The dossier also includes the Swiss and Austrian markets for the first time, covering both German tour operator revenues in those two markets and local market leaders. The overall tour operator revenues in the three countries increased by 6.9 percent to €25.5 billion ($31.45 billion) last year.
DMO marketing: How Elizabeth New Jersey Found its International Strategy
(The following is a result of INBOUND's editor taking up the suggestion that he pay a visit to Elizabeth, New Jersey, which is 20-25 minutes from downtown Manhattan and which, two years ago, began a modest effort to define and raise its profile, promote its tourism product and grow the number of visitors it receives each year. In addition to a three-day visit to the city, our editor also interviewed, by phone and e-mail, the three people who run the city's DMO, which is funded by a one percent occupancy tax on its major hotels.)
Why Elizabeth? Citing the absence of any New Jersey state sales tax on clothing and shoes, Gordon Haas, president and CEO of the Elizabeth, N.J. Chamber of Commerce, told INBOUND that travelers headed toward New York should "spend $200 a night for a hotel rather than paying $500 for a hotel room in Manhattan, and have $300 to shop with," adding, "if people can experience twice as much and stay just 20 minutes away, it only makes sense for us to market it that way." The not-so-subtle suggestion is that visitors to New York City could stay at one of Elizabeth's nine hotels—all within free shuttle distance of Newark's Liberty International Airport and/or 20-25 minutes via public transportation from Penn Station in mid-town Manhattan—and could shop at places such as the Mills at Jersey Gardens, a shopping mall with nearly 100 outlet stores selling mostly upscale labels.
(While the 60 percent price difference suggested above might be a bit high, it is possible. A quick price comparison on any OTA will show a sampling of properties in Elizabeth listed at rates from 30 to 40 percent lower—and sometimes more—than hotels in Manhattan.)
Virtually "across the street" from Jersey Gardens is the largest IKEA store in the New York-New Jersey-Connecticut tri-state region. Obviously, many visitors—most of them from New Jersey or the tri-state region, already get the message about shopping. Jersey Gardens draws 18 million visitors a year, compared to the 4.5 million who visit the Statue of Liberty, which is also in New Jersey (a fact just about anyone from the state will underscore by aggressively pointing an index finger at  you as they tell you, in order to make sure you get the point.)
Haas, also the force behind the creation two years ago of the Elizabeth DMO, knows that he and the two-person team at the DMO (Jennifer Costa is director, Lauren Ferrigno is marketing coordinator) have work to do to take better advantage of the city's location and its accessibility in order to make it a  more visited destination on its own.
###
"Outside the Gateways" vs. "Inside their Shadows": One of the movements that the Elizabeth DMO hopes to take advantage of is Brand USA's goal of moving more international visitors to visit U.S. destinations "beyond the gateways" by promoting places and attractions in itineraries that may begin or end in places such as New York, Los Angeles, Miami, San Francisco and Chicago, but go through states and cities that, traditionally, been a part of the itineraries and packages that international tour operators sell in their home countries.
Cities such as Topeka, Kansas (pop. 126,805) and Hartford, Connecticut (pop. 123,2430–both state capitals—find themselves a part of itineraries for both U.S. and international operators. Why, then, is Elizabeth, which is about the same size as Topeka and Hartford (pop. 128,640) still working to be part of these itineraries?
Part of the answer lies in the fact that, while Elizabeth is really close to New York City, it is so close that it is in its shadow—almost literally. And a sizable part of Newark's international airport is actually within Elizabeth's borders. As such, it is a challenge to define yourself in someone else's shadow.
How They are Approaching the Challenge: The current effort is not the first time that Haas was behind an attempt to bring visitors to Elizabeth. More than a dozen years ago, he was the force behind the launch of the "Shop and Play at 13-A" campaign. For those unlettered in the argot of New Jersey, an expression such as "13-A" is how New Jerseyans identify where they're from in relationship to the exits along the New Jersey Turnpike. Those who reside in New Brunswick or Middlesex County, for instance, will tell you they live off Exit 9. In the case of Elizabeth, it is 13-A.
Well, the "13-A" campaign, which was aimed mostly at New Jersey residents, didn't gain traction. But Haas, who is quite the determined and methodical creature—a one-time college professor, he has a PhD in Anatomy—was not deterred. Still believing that the city could benefit more than it was from the scores of thousands of people taking buses to Jersey Gardens, he got support for both the Elizabeth DMO and a 1% occupancy tax to fund it.
The mission of the DMO? "Simple. Put heads in beds," Haas told INBOUND. After recruiting a two-person staff, the organization began its outreach, seeking partnerships and attending trade shows.
In addition to events within New Jersey, the Elizabeth DMO is partnering in any way they can with Brand USA as well as associations like the US Travel, SYTA, ABA, the Hispanic Motorcoach Association, and NTA. INBOUND first encountered Ferrigno at IPW last June in Washington DC, and crossed paths with Costa last week at the new Connect Travel Marketplace in Orlando.
While on the trade show circuit Costa and Ferrigno do the usual, and then some. They point to the destination's number of hotel rooms—more than 2,500—and properties (16), as well as the motorcoach companies that serve, or could serve, the area.
Haas, Costa and Ferrigno realize that it will take more networking and more face-to-face meetings with operators before tours and tourists make the connection that Elizabeth can host international travelers—especially operators who are looking to cut costs for clients who want to visit New York City but would not mind staying at a hotel that's 20-25 minutes away from Penn Station.
Meanwhile, the Elizabeth team are still working at compiling the numbers of packages already in place that include Elizabeth, the operators who sell Elizabeth to their clients, or an accurate estimate of exactly how many travelers visit Elizabeth each year and what they are doing—such  numbers will help the organization going forward as they fine tune their marketing strategy.
The Product? Vintage New Jersey¹, Vintage USA: The city is compact and densely populated. In fact, New Jersey is the most densely populated state in the USA, and Elizabeth is the state's fourth-largest city. It's not a challenge to get around Elizabeth quickly. (The width of many of its streets could present a challenge for the traditional tour bus, however, and it might be better suited for the DMO to promote products that use smaller vehicles such as the Mercedes Sprinter for smaller groups.)
As for its people, Elizabeth is a Petri dish of America's ethnic and racial diversity. Among its residents, there are 30 languages spoken by people representing 50 countries. It is likely that most passengers on every single busload of overseas visitors that visits Jersey Gardens will hear their native language spoken in the Mall at Jersey Gardens. The people in the mall, both shoppers and employees, comprise a multicultural festival.
Places to eat? One restaurant site we reviewed had more than 300 restaurants listed for Elizabeth, with a dizzying number of cuisine choices listed. While not revealing our preference, INBOUND can point out that, among the favorites of visitors is Manolo's Restaurant, a Spanish/Mediterranean fusion eatery where the first episode of the popular TV show, The Sopranos, was filmed!
About its historic and cultural attractions: They are many, many in number—too many to detail here. One can only imagine, however, how many there must be for a city that goes back to the mid 1600s. As one stops off at any number of sights, monuments, parks or museums, one will probably intersect with the path once trod by Alexander Hamilton, who once lived in Elizabeth.
Perhaps what best qualifies Haas, Costa and Ferrigno is that all three are authentically New Jersey and, for the most part, authentically Elizabeth. While not born in the city, both Haas and Costa are long-time residents, while Ferrigno is a "third generation Elizabethian."
While Haas is looking to retire within the next five years, Costa and Ferrigno will likely be at the Elizabeth DMO for some time. And both are eager to hear ideas and suggestions on how they can better package and promote their city. Contact them at:
Jennifer Costa: [email protected]  Lauren Ferrigno: [email protected]
###
¹ Full Disclosure: INBOUND's editor spent a number of years attending Drew University in Madison, New Jersey as both an undergraduate and graduate student, was a radio and newspaper reporter in northern New Jersey and once served as press secretary to a Congresswoman from the state. He really likes New Jersey.
Houston Gets New Tourism Chief; KC Opts for Interim Chief
Less than four hours after the last issue of INBOUND report posted news of the firing of Dawn Ulrich from her post as president and CEO of the Houston First corporation, which runs the city's tourism bureau, the Houston City Council announced that it had confirmed Brenda Bazan, chief financial officer of Houston First as the new CEO of the organization.
She had been nominated a week before by Corporation's board, just two days after Dawn Ullrich, was fired from the post in a decision announced by David Mincberg, chairman of the board of directors and chief executive officer of Flagship Properties Corporation. Mincberg announced the decision following a closed-door session with other board members.
The dismissal of Ullrich stunned the tourism community in Houston and came in the wake of Ullrich's own announcement that she had planned to retire from her CEO post by the end of the year. An attorney who has more than three decades experience working for the city of Houston, including a number of years with its convention center, she came to Houston First when it was established in 2011.
Bazan, a certified public accountant for three decades, has served as Houston First Corp.'s chief financial officer since 2011. Previously, she was deputy director, finance and administration, for Houston's convention and entertainment facilities department. And prior to that, she worked for more than two years as director of financial reporting in the City of Houston Controller's Office.
***
Meanwhile, in Kansas City, Visit KC announced the appointment of Patrick Geschwind as its interim president & CEO, following the Jan. 31 departure of Ronnie Burt from the position.
Burt had announced his resignation earlier in the month. Burt, who came to Visit KC in June 2014 from Destination DC, where he was vice president of sales and services, had become the subject of employee complaints and a lawsuit filed by the organization's former human resources manager Janette Barron.
Barron, a 21-year employee of the Kansas City bureau, claimed she was fired from the organization after she sought an investigation into claims of Burt's alleged harassing and bullying behavior toward female employees. She sued the organization, and that lawsuit reached a settlement last week on Jan. 10.
Geschwind, owner and senior consultant at Patrick Geschwind & Associates, has more than three decades of leadership experience, including 25 years of marketing, sales and human resource positions within SBC Communications (now AT&T). His interim role at Kansas City's tourism bureau began on Feb. 20. Meanwhile, a committee of the Visit KC board of directors is conducting a national search for a permanent replacement
Could Proposed Restrictions on Internet Access Hurt Chinese Agents from Getting Travel Info Online?
A recent article by Reuters notes that a recent circular from the Chinese government would ban virtual private networks (VPNs) or leased lines from connecting data center inside and outside China, according to a statement sent to the World Trade Organization by the United States government. The statement gave examples of services that might be affected, such as travel agents in China accessing international flight information, or clients using text messages to access technical support or customer service based abroad. Read the complete article here: https://in.mobile.reuters.com/article/amp/idINKCN1G71HQ
All Together Now: we're Number Five!
To help the travel marketer better understand the state of the upscale British traveler, there is The Kuoni Worldwide Trends Report 2018 and, although the consultation with a Kuoni agent, usually in a comfortable environment inside an upscale department store, the Trends Report notes that even its customers have become more digitally dependent for purposes of holiday planning. This and other points of interest from the Trends Report are summarized below:
In 2017, internet browsing on a mobile device finally became more popular than using a desktop computer. This important shift is especially noticeable with Kuoni as 60 per cent of visitors to the website are now on their phone or tablet. Last year, mobile sessions were up 14 per cent and Kuoni saw a slight decrease in desktop visitors. With more customers interacting in this way, Kuoni have improved the online experience for mobile users.
Kuoni's research shows that, while people love browsing the web for ideas and inspiration, there is a swing back to "real expertise" when it comes to booking. Conversations are still central for premium travel. Although the vast majority of people may be going online for research, when it comes to more complex, multi-center travel real expertise and advice is still central to converting browsing into booking. The company's research shows that 79 per cent of people now admit they feel overwhelmed by the volume of search results when they start their holiday planning.
Are we drowning in data? Survey research has found that 49 percent of travelers strongly agree that travel planning has become more of a headache than an enjoyable part of the holiday. As well:
—52 percent say they are unsure which online sites, reviews and data to trust when booking a holiday
(Source: Independent research by Censuswide, carried out in January 2018.
Travel by Appointment: Planning and booking a holiday is one of the most exciting and important decisions of the year and, in the case of honeymoons, weddings or other special trips, it's one of the most important decisions not just of the year, but sometimes of people's lives. With tea, coffee or champagne, the appointment service from Kuoni is on the rise. (At the time the Trends Survey was being prepared, appointments for January 2018 were running 31 per cent ahead of the same week the previous year.) Technology behind the scenes has been developed so the Kuoni team can book appointments with Personal Travel Experts most relevant to the destinations or types of holidays the customer is interested in. Some numbers:
—There was a 38 percent increase in appointments last year, compared to 2016.
—The average length of a travel consultation was 2 hours
—59 percent come in for a consultation "with a blank sheet"—they don't have a destination in mind and are happy to be inspired.
Webchats Now Drive Bookings. The website is effectively the biggest shop window and Kuoni is seeing more customers make initial inquiries through webchat. It's been four years since webchat was first introduced at Kuoni and, as the travel experts get better trained and more used to handling it—and shoppers more used to the format—it's a great first point of contact. While people don't book on the basis of webchat alone, it's a great ice-breaker, says Kuoni, and provides a friendly starting point for many customers to iron out a few initial queries. Increasingly online chats go on to more detailed conversations about the trip face-to-face at an appointment or on the phone. A note: Kuoni experience 33,288 chats in 2017 vs. 27,196 chats in 2016
Specialist Phone Calls are up, but Generic Phone Calls are down: There's been a shift in how people plan and book holidays over the phone. The Kuoni website gives people a choice of how they get in touch by phone, either a general number or contact details of Personal Travel Experts directly who have specialist knowledge or are local to customers' homes. ONLINE INSPIR ATION In 2017, internet browsing on a mobile device finally became more popular than using a desktop computer. This important shift is especially noticeable with Kuoni as 60 per cent of visitors to the website are now on their phone or tablet. Last year, mobile sessions were up 14 per cent and Kuoni saw a slight decrease in desktop visitors. With more customers interacting in this way, Kuoni have improved the online experience for mobile users.
Finally, the Top 25 Destinations for Kuoni Customers: Kuoni sells more than 90 destinations worldwide; the Top 25 list is based on those destinations which have seen the highest booking numbers for 2018 holidays at the time the Trends report went to press. (Remember that, in almost all surveys of holidaymakers in the UK, the USA ranks as the number one overseas destination.)
2017 was Canada's Best Year ever for Inbound Tourism Arrivals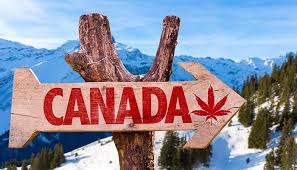 The preliminary data are in. And they show that last year set a record for the number of  international visitors to Canada. The latest report from Destination Canada, the nation's tourism promotion arm, showed that international arrivals for the year reached 20.8 million, surpassing the previous annual record of 20.179 million visitors set in 2002. With the exception of a decline in visitors from the UK, all other countries in Destination Canada's 11 target market either set annual records or had a very good year. (Statistics Canada is the source for all figures in this article.)
Other highlights from Destination Canada's monthly report for December 2017 include the following:
—As well as the best year ever for total arrivals to Canada, China, France, Australia, Mexico, South Korea, India and Brazil all had their highest arrivals in 2017 too.
—Overseas travelers, who typically spend more on trips to Canada than US travelers, represented 31 percent of all travelers to Canada (compared to 19 percent in 2002).
—With 1.9 million arrivals to Canada in 2017, Destination Canada's Asia-Pacific markets surpassed our European markets as our largest overseas region in 2017.
—Direct air capacity to Canada increased by 7 percent in 2017, supporting a large increase in visitors arriving by air.
—Destination Canada's Latin American markets led the growth in international arrivals to Canada in 2017 (+39 percent over 2016).
—Arrivals from overseas (+7.2 percent) expanded slightly more than global international arrivals (+6.7 percent) in 2017, with Destination Canada's overseas markets (+9 percent) expanding at twice the rate of non-Destination Canada markets (+4 percent).
Reach the Bottom of the Funnel at RTO East 
The Bottom of the Funnel? A brief Explanation from the  NAJ Group's CEO: "When we say international tour operators are at the 'top of the  trade funnel'," explains Jake Steinman, founder and CEO of the NAJ Group, which sponsors the RTO Summit series, "here's what we mean: While they make the decisions about which destinations and products to feature, for the most part they don't actually buy directly from hotels or attractions because they cannot guarantee volume. They buy from inbound receptive tour operators—who who serve as the bottom of the sales funnel."
As such, Steinman notes, the RTO Summit East, April 17-18, at the Wyndham New Yorker Hotel, is the most cost efficient way to reach and present to inbound receptive tour operators. Here's why:
—Back in 2013 sales missions to New York New York receptive operators mainly consisted of visits to their Manhattan offices. Fast forward to 2018 and more than 40 percent of those operators have moved out to Queens, Long Island City, Flushing, Westchester and several towns in New Jersey.
—Sales missions that once could be completed in two days now take as much as five days.
—The RTO Summit, however, is the only receptive event in New York that brings them all together under one roof. (See last year's operators here: http://www.rtosummit.com/east/attendees/buyers/)
For more on this year's RTO Summit East, visit http://www.rtosummit.com/east/supplier-dmo-registration/
At a Glance: Denver, Colorado
For full information CLICK HERE
For full information CLICK HERE
HODGE PODGE: Shifts, Shakeups and Occasional Shaftings in the Tour and Travel Industry
Louisiana Lt. Gov. Billy Nungesser has announcement the appointment of Doug Bourgeois as the assistant secretary for the Louisiana Office of Tourism.  He succeeds Kyle Edmiston, who recently left the office to join the Lake Charles/Southwest Louisiana CVB as chief operating officer. Bourgeois, who has worked for the Louisiana Department of Culture Recreation and Tourism in various roles over the past 18 years,  has more than thirty years of experience in the travel and tourism industry having worked as a tour guide, meeting planner, domestic and international marketing executive, and most recently in rural tourism development.
---
---
John and Mary Stachnik, the founders and owners of Mayflower Tours, are retiring, and their company has been purchased by the Scenic Group, an Australian company that now encompasses river cruises, tours and yacht expeditions, and is furthering its expansion in North America with the purchase of Mayflower Tours, which is based in Downers Grove, Illinois, a suburb southwest of Chicago. Both Stachniks have been highly visible and active leaders in U.S. tour and travel industry organizations. The Stachniks founded Mayflower in 1979.
---
---
Jake Buganski has resigned from his position as acting executive director of the New Jersey Division of Travel and  Tourism, having accepted a job in the private sector. His last day on the job will be March 9 th Buganksi was appointed to the executive director's  job at the end of 2016. He joined the division from the Steuben County (N.Y.) CVB. Previously, he had served as executive director of Visit South Jersey, where he had worked for more than a decade.
---
---
Shirley Davis Conner has been promoted to the position of director of sales for Elvis Presley Enterprises, Inc./Graceland. A 26-year veteran of the company, she replaces Carolyn Mears, who has left the company following a 34-year career. Also, Laura Griffin, who's been with Graceland for 31 years, has been promoted to sales manager. "Can't say we don't stick around," Conner told INBOUND.
---
---
Andrew Flintham is staying, in effect, with TUI UK & Ireland. Formerly commercial director for the company, he was scheduled take up his new position as managing director beginning March 1, 2018, following the departure of Nick Longman after 20 years with TUI UK & Ireland. His decision comes after Thomas Cook UK had previously announced the appointment of Flintham as its new managing director. Flintham had been due to take up the position on March 1st. Thomas Cook has confirmed that that, instead, Chris Mottershead will continue to manage the UK and Ireland until a replacement for Flintham is found.
---
---
Bruno Sá, who recently left his job as part of the regional sales team of Brazil's MMTGapnet after five-and-a-half years with the tour operator, has joined Rextur Advance as regional sales manager for the country's Northeast, where he is responsible for a team of ten sales executives in Fortaleza, Recife, Ilhéus and Salvador.
---
---
Also in Brazil, Grupo Trend has announced the hiring of Eduardo Caballero as sales executive for Mato Grosso do Sul. Cabllero, who has 20 years of experience in tourism, will report directly to Jardel Almeida, regional sales manager for the Midwest region
---
---
Kate Weed has moved on from her position as director of marketing for Phoenix-based DETOURS to become director of marketing for ClassicCars.com, which is also situated in Phoenix. Weed had spent two years with DETOURS.
---
---
BWT Operadora has announced the reinforcement of its sales team with the hiring of new executives in the area, including Juan Mordaski as commercial coordinator. Mordaski, who has 20 years of experience in the tour and travel industry, will report directly to the general manager, Gabriel Cordeiro .
---
---
Amber Kirby has been named marketing and customer experience director for Virgin Holidays. New to the tour and travel industry, Kirby was marketing and customer experience director global brand director, skincare and Boots health and beauty, and before that worked for Procter & Gamble. She will take up her new role on March 12, reporting to Virgin Holidays managing director Joe Thompson and heading up a team of 35. Kirby replaces Claire Cronin, who left last summer to become vice president marketing at Virgin Atlantic.
---
---
The over-50 specialist Saga Holidays, has named Patrick O'Sullivan, a former deputy governor of the Bank of Ireland, as its new chairman. He replaces Andrew Goodsell, who announced his intention to stand down as Saga chairman in October. O'Sullivan previously spent 12 years at Zurich Insurance Group, where he held a number of roles.
---
---
Al Santos has return to Exotics Racing in Las Vegas as vice president of sales. He had served as director of travel industry sales before taking one-year sojourn to work as director of international and leisure sales at Sundance Helicopters. Santos's resume also includes tenures in senior sales  positions at The Cosmopolitan of Las Vegas and The Venetian/The Palazzo Resort Hotel & Casino.