Celebrating the 50th Edition of the U.S. Tour and Travel Industry's "Big Dance"
Here, the INBOUND Report shares recollections of and about the event from those who were a part of IPW—formerly Pow Wow—over the years. This week's memories come Juan Sepulveda, director of international sales, Roosevelt Hotel, New York City; and Lisa Catron, international sales manager, Memphis Convention and Visitors Bureau.
Juan Sepulveda: "My most memorable moment from ipw, and I've attended already over thirty, must have been my first ipw, when I had the opportunity to meet in person Stanley—I didn't know his last name. We got back to New York the following week and went to do sales calls in his office and it happened to be Stanley Fisher the owner of Allied Tours, a great gentleman.  A true icon of the industry and we became friends for next twenty-five years. I know his son, Michael as well, very well and we do lots of business."
Lisa Catron: "My first ipw was actually in Orlando Florida which is absolutely phenomenal. But the most memorable ipw- I have two:  Chicago and the Deep South of New Orleans. And the reason I am so passionate about New Orleans is the flights, the BA flights that go in that area and also because of those flights we get a lot of fly-drives, a lot of group bus tours that come up to the Memphis area. So it's a win-win for all of us. So that was the most memorable ipw.  Like I said, it's all about our destination."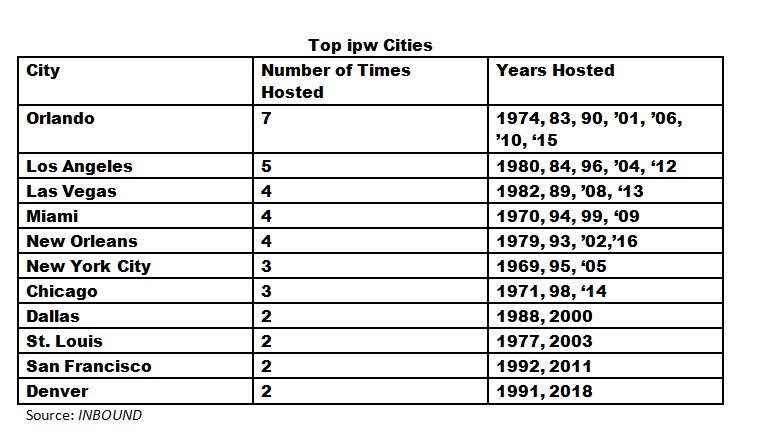 Thinking Outside the State: Houston and Lake Charles, LA form Unique Co-op Program
Lake Charles, Louisiana Teams up with Houston—143 Miles to the West—to promote region: In what  might be considered a variation of "Thinking outside the Box," the tourism promotion team for Southwestern Louisiana and Visit Houston decided to take the concept a few miles more (143 miles or 230 kilometers) and "Thinking outside the Boundary" by promoting each other.
The new approach of promoting non-contiguous destinations created a lot of buzz during the recent ITB trade show in Berlin for both Louisiana and Visit Houston.
Mike Prejean ( left), who is with the Louisiana Office of Tourism and Anne Taber Klenke ( right), tourism director for the Lake/Charles/Southwest Louisiana Satellite Office, were able to explain the unassailable logic of the joint promotion through the collateral that they made available at ITB. The information, some of which is below, shows that:
—Houston is already a major international gateway for international visitors to the United States from key regional source markets such as Europe, Asia and Latin America.
—Visitors to Houston will have additional incentive to use Houston as its gateway to the U.S. by promoting experiences (and destinations) that are within easy drive time distances.
—Lake Charles and Southwestern Louisiana fit the above definition perfectly. So do other points north, east, south and west of Houston.
Germans Still Rely on over 11,000 Travel Agencies for Vacations
In a report that came out just prior to ITB in Berlin, the German Travel Association (DRV/Deutsche ReiseVerband) reported that in Germany—no major overseas source market remains as reliant on the travel agent and travel agency as does Germany—the travel agency still prevails as the place where Germans book their travel.
The DRV report said that 60 percent of the total travel expenses of around €65 billion ($79,9 billion) in 2017 – more than €39 billion ($48 billion) were booked offline—at travel agencies, call centers or directly at the service provider.
Overall, said DRV, the turnover of the German travel distribution business continues to increase. In the holiday segment, it increased last year by five percent and was €26.4 billion ($34.5 billion). The average turnover in a travel agency also increased, by around five percent.
What Does this Mean? One can muse about the answer to this question, but the impact continues to reflect itself in the continued reliance on print products by U.S. travel suppliers who promote their destinations, attractions and services. It also means that travel suppliers who do business with German operators will continue to be pressured to buy advertising in the print brochures operators use.
If travel sellers are waiting for digital marketing applications and online channels to ascend to the same place of prominence that they enjoy in other key country markets, they will have to wait a while for it to take place in Germany. Even though the number of travel agencies is declining, it is doing so at a very slow rate—about two percent a year in recent years.

Other points of note in the DRV report include the following:
—DRV has changed its travel agent counting method. "The German travel distribution market has changed in recent times increasingly and in particular more specialized," it said, in announcing that the classification into individual types of travel agencies and other booking offices on the basis of the number of concluded agency contracts is no longer expedient. "Against this background, the consideration is switched to the total number of all travel distribution agencies altogether— subdivision into individual travel agency types is no longer made," said the DRV.
—So, now, sales offices include the full-range of agencies specializing in tourism, the business travel-oriented agencies and the sales offices that focus on a tour operator or a specific section of the travel offer.
—The highest density of travel agencies continues to exist in Thuringia and Saxony, the lowest in Baden-Württemberg and Schleswig-Holstein.
—Independent agencies continue to decline as system-based sales continue to increase: Today, 95 percent of all travel agencies belong to a chain, a franchise system or a travel agency cooperation. In 1990, this only applied to 30 percent of the agencies.
US Travel Beefs up Lobbying Operation in Nation's Capital
The U.S. Travel Association has hired the Washington D.C. lobbying firm Klein/Johnson Group for Capitol Hill representation on issues related to government appropriations and tourism. US Travel has retained Klein/Johnson on issues related to "encouraging safe travel to and within the United States for both business and tourism," according to lobbying registration documents filed in March.
US Travel has also hired Klein/Johnson for help with appropriations bills as they relate to travel and Brand USA, the large-scale, public-private campaign to promote travel and tourism to the United States.
Above: Klein/Johnson Group principals Matt Johnson (left) and Izzy Klein
It's possible that US Travel is ramping up its efforts so as not to be caught flat-footed, as it seemed to be last December. Unbeknownst to just about everyone—Members of Congress included—when the U.S. Senate passed the wide-ranging tax bill early on the morning of Dec. 2, it opened the door to the automatic implementation of previous legislation that, in effect, would require the de-funding of Brand USA (officially, the Corporation for Travel Promotion) and deep cuts in the programs of U.S. Customs and Border Protection (CBP).
As it turned out, in February 2010, Congress passed and President Barack Obama signed into law The Pay-As-You-Go Act of 2010 (Title I of Public Law 111-139)—also called Paygo—which reinstated a law enacted in 1990 under President George H.W. Bush and was effective until 2002. The act is designed to ensure that most new spending is offset by spending cuts or added revenue elsewhere (with several major policy exemptions). The tax cut bill will cost the U.S., by most estimates, some $1.5 trillion. Hence, the Paygo cuts.
As explained by the New York Times—which first brought the matter to the public's attention—with the exception of Social Security, the U.S. Postal Service and some income-based programs such as unemployment benefits and food stamps, most mandatory spending programs are subject to Paygo. For 2018, the law would take away $14 billion in some farm aid programs, $1.7 billion for Social Security block grants, Meals on Wheels and millions here and there for scores of federal programs.
The matter was later resolved via a waiver procedure, but it seemed to be a wake-up call to the industry's advocacy operation that a little more strength on Capitol Hill would help. The Klein/Johnson Group was launched last year by two Capitol Hill alumni—Izzy Klein and Matt Johnson. Klein was previously communications director for U.S. Senate Minority Leader Chuck Schumer (D-N.Y.), and was also formerly press secretary and legislative assistant to Rep. Ed Markey (D-Mass.). Johnson worked as chief counsel to U.S. Senate Majority Whip John Cornyn (R-Texas). Other Klein/Johnson clients include Oracle, First Data and Civitas Capital Group.
Receptive Tour Operator of the Month
Jane Rutter, Chief Operating Officer
Manager, Northeast & Southern States
The 25-year-old Meeting Point North America is a full service receptive tour operator for USA & Canada, offering a complete range of hotels, attractions, fly-drives and motor-coach itineraries for both FIT and group clients.  We pride ourselves on delivering top notch customer service to both large and small clients.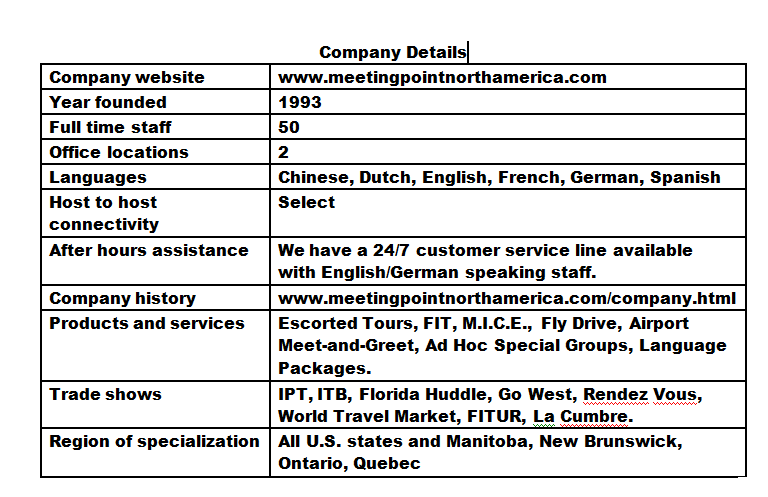 The TourOperatorLand.com website by the NAJ Group (it also publishes the Inbound Report) has introduced both receptive tour operators, U.S. tour operators and international tour operators to travel product and services of U.S. travel suppliers and DMOs. Visitors to the website can use its exclusive Receptive Finder™ to find the right RTO.  It is designed to help both the travel trade and travel suppliers find the right U.S. based receptive tour operator to sell their products on the international travel market place.
The receptive operators, who are vetted and qualified by the NAJ Group also take part in at least one of NAJ's RTO Summits series. The Summits take place annually in Los Angeles (It was held Feb. 21-22, 2018), New York City (April 17-18) and Orlando (October 24-25, 2018). You can connect with Meeting Point North America at next month's RTO Summit in New York.
For more information, visit www.TourOperatorLand.com
At a Glance: Daytona Beach, Florida
For full information Click Here
HODGE PODGE: Shifts, Shakeups and Occasional Shaftings in the Tour and Travel Industry
Erick Garnica has been named director of leisure travel industry sales for Discover The Palm Beaches. A veteran of more than 15 years in the tour and travel industry, Garnica joins the Palm Beach organization from the Greater Fort Lauderdale CVB, where he served for five years. Previously, he was senior international tourism sales manager for the Lee County (Fla.) Visitor and Convention Bureau.
---
---
Miriam Chovanec has been named senior international tourism sales manager for the Philadelphia CVB. She'll be working with in-country representation firms across Europe and will promote Philadelphia to South American audiences, with a focus on Brazil. Chovanec was most recently senior sales manager at the Sofitel Washington, D.C.
---
---
C
arlson Wagonlit Travel (CWT) has appointed Elsa Le Moigne as sales director France. She reports to Brigitte Nisio, CEO of CWT France, and joins the France management committee. She was previously a director in the CWT Solutions Group consulting department where she recently developed and led the outsourcing unit in Europe. Le Moigne has been part of the CWT Group for nine years and has 13 years of experience in consulting and business travel.
---
---
Kate Kane Bewley has left the Southern Indiana Tourism Bureau to take on a position in group sales with Churchill Downs in group sales. Before her tenure with the Southern Indiana Tourism Bureau, she was sales manager at the Louisville CVB.
---
---
Livn, the Sydney-based aggregator of bookable tour and activities product, has appointed Raja Natesan to lead sales and marketing in India, while it also seeks to appoint a similar professional to be based in Singapore while covering Southeast Asia opportunities. Previously, Natesan held senior positions at Yatra and TUI India, and more recently as CEO of Uniglobe South Asia. Livn's distribution platform now features more than 30,000 products across 3000 destinations and 196 countries.