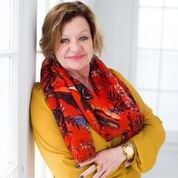 The secret to success for Sally Davis Berry, global sales and marketing manager at The Corning Museum of Glass in the Finger Lakes Region of New York, and well known in the U.S. tour and travel industry, is really no secret at all. For, as INBOUND found out from our recent interview with her, she is representative of many women professionals in the tour and travel industry. It all came out in her answer to the final question that we asked her, in which she told us that she had to learn and apply things she learned very much on her own—but, as a single mother of three children, she had experience with such an arrangement. Her quiet confidence and pleasant demeanor have served her well in her two-decade career in the industry as she has practiced her craft with several different tour and travel entities and, at the same time, she's an accomplished blogger and e-book author. You'll find out more about Berry in the following excerpted interview we had with her.
INBOUND: So, how did you make the move into the tour and travel industry?
Berry: I was a stay-at-home mom when all of my children were young. I decided it was time to get back to work, and a friend of my father's owned a travel agency Rochester, and he was looking for a meeting planner for one of his corporate accounts—a Fortune 500 company—and I said, "That sounds interesting" and got hired with one interview, and got thrown into a corporate meeting planner position without knowing anything. So, I was a corporate meeting planner for two years, and I loved it.
INBOUND: Did you have a mentor? Did you find people to help you out?
Berry: No, I did not. Not only at my first job as a meeting planner, but then, when I got thrown into the next job, working at an attraction I worked at a paddlewheel steamboat (the Canandaigua Lady) in the Finger Lakes as director of sales. I got the job there, and received no training and kind of had to figure things out. So, I think one of the reasons I like writing my blog and some of the e-books I put out is for people who are just starting in the tourism industry and either don't want to ask questions because they're embarrassed that they don't know or aren't sure what they should be doing, so I try to think about that kind of person—that kind of industry professional— and when I'm in a conversation with a group of people and someone throws out an acronym, I always say "Can you remind us of what that acronym is?" Because, inevitably, there's always someone in the circle who doesn't know and is too embarrassed to ask.
INBOUND: This also explains for me why you do so well in explaining something to a group. You don't expect everybody be a 2.0 or 3.0 in their understanding of of a subject, and they still need a "101."
Berry: Yes, and I think that does come from not having had a mentor and seeing so many situations in which I didn't know what to do and I could have been way more effective way sooner if someone had just taken the time to give me information or … tell me how to do a seven-minute appointment at a trade show or that kind of thing. I always think about that level of person in the industry.
INBOUND: Back to your career. What is it that brought you to the Corning Museum of Glass?
Berry: After I left my meeting planner job, I took the job at the paddlewheel steamboat and that sort of got me into understanding more of the tourism industry from the supplier side. And I went from that job, where I was director of sales for two years, to a regional DMO—the Finger Lakes Tourism Alliance—which represents all 14 counties in the Finger Lakes. I was there for about five years, and I learned a lot in that job about working with different shareholders, different stakeholders, and how the counties to the north thought I did more for the counties to the south and the counties to south thought I did more things for the counties to the north (We both chuckle). I would have to say that's where I learned how to be politically adept at working with different stakeholders.
That's also where I really cut my teeth on learning more about the group tour industry from a DMO perspective. And that's really where I also started to learn about international tourism. Working at the Canandaigua Lady, we got international groups, but I never had any idea how they found us or where they came from. And I didn't know enough then to ask questions.
INBOUND: Can I shift the focus of our conversation a little? When we mention your name to colleagues in the industry, they use words like "innovative," "outside the box," and "creative" to describe your approach to doing business. Can you elaborate?
Berry: I was program director at the Finger lakes Tourism Alliance for five years and one of the things I did there … one of the things I realized was that a lot of the smaller attractions and the counties didn't have a lot of opportunities for education. The bigger DMOs, like Rochester and Syracuse and Corning could afford to go to conferences like the state tourism conference, but a lot of our smaller businesses could not.
So, I developed a tourism institute. We called it the Finger Lakes Tourism Institute, and every year I did a three-day program where I brought in nationally known speakers because I really wanted these people to have the best of the best in learning—and we did a different theme each year. One year, we did group tours. The next year, we did culinary tourism—the rise of culinary tourism. And this was way back in 2005, 2006 and 2007; so, it was a while ago. And then, we also did international tourism one year. It was a great way to get our smaller businesses up to speed from some of the best of the best.
One of the other elements of the program that I developed which I'm very proud of is … the first day every year, we always did customer service training. That was because research had been done in the region which showed that one of the challengers was the lack of customer service and the lack of service training. So, I took that on, and I contracted with a company that did customer service training. What I did that was different was this: front-line staff could sign up for the cost of the program—it was typically $35 dollars—but they could only come if their managers came. And the managers fee was something like $119. My goal there was making sure that the front-line staff got trained, but I didn't want them to go back to their offices and have their bosses either not understand what they had learned or not be willing to help them implement changes.
It ended up being a great tool and, inevitably, I would always have some manager of a hotel or some attraction call and say, "Listen, I'm going to sign up four of my staff, but I just can't get off. So, I just want the staff to go." And I would say, "No, then they can't come. The whole point is for the whole team to come and for you to learn along with them."
I would get push back every year. But every year, when we did this program, the manager would be sitting with the staff—I always made it interactive and we would see role playing and games and things like that—and by the end of the day, it had been like a holiday day for them. Everyone was excited to go back. Everyone had had fun. And so, I was really proud of that element of the program. Three to four years later, we had another research study done, and one of the highest rankings of our region was in customer service. I'd like to think that all those trainings and all that diligence made a difference."
INBOUND: For international travelers, Corning, New York is not a gateway destination. How do you get international or receptive operators who bring groups into the U.S. arriving in NYC or Philadelphia or in other international points of entry and departure to include a visit to the Museum of Glass in their itineraries?
Berry: I spent a year working for a receptive operator and that gave me a lot of insight into how to put together a tour that both makes sense and sells. So, when I speak about Corning, I talk about where we are located and help the tour operators connect the dots from where they might have had their customers coming to where they were going. I'll always start a conversation with tour operator with a map, and say "We're half way between New York City and Niagara Falls. We're on the way from Washington, D.C. up to Niagara Falls. If you have groups that are doing Amish Country …." I help connect the dots. When It makes them see how they can add us into an itinerary, it makes it much easier.
Then, the other tool I use to give them another reason to stop: "We have a large café where your customers can lunch. And we have a studio where you can add on a 'Make Your Own Glass' experience." I just give them reasons why it makes sense to add us in.
INBOUND: What percent of the museum's business is domestic, and what percentage is international?
Berry: About 60 percent of our business is domestic and the majority of our visitors come from within a radius of a three-hour drive. We get a lot of families. For being a glass museum, it's a very family friendly place and very much a place for family activities for a lot of locals. Obviously, we're a huge vacation destination, so in the summer, we get lots of people who've rented cottages on the lake. As a result, it's been 60 percent domestic and 40 percent international. It varies a little bit every year.
INBOUND: Besides Canada, which is a neighbor, and China, which is number one for you, what are your top international source markets?
Berry: We track our visitors to the museum in two different ways. They are either individual guests, where they check in at our admissions desk, or they come as a group, where a group leader checks them in at our group desk. That's how we track our visitors.
For our individual and family visitors, people are often surprised that, after the U.S. and Canada, our next biggest market is Israel.
INBOUND: Ahead of China?
Berry: For individuals and families, yes. I would have to say that I give credit to a very good friend of mine who is a wholesaler in Israel who I met years and years and years ago. Another good friend in the industry said to me one time, "All you need is one good wholesaler in each market, and you'll be all set." And that has assuredly happened with the Israeli market. This Israeli operator became such a good friend that he came to our home for Thanksgiving one year.
INBOUND: That's remarkable. But of the other top markets—is China tops for groups?
Berry: China is tops for groups, then India. And then, as you know, we are part of the Wine Water and Wonders program; besides China, we work in the UK, German and French markets. Those markets are very strong for us because of our involvement in that program. (Wine, Water and Wonders is a partnership of the Corning Museum of Glass, Finger Lakes Tourism Alliance, Visit Rochester and the Niagara Tourism & Convention Corporation.)
INBOUND: Just about everybody in the industry knows that you've done quite well with the Chinese market. Could you walk us through what you and your team did to make China your top international source market?
Berry: Sure. It's interesting, because when I was still working at the Finger Lakes Tourism Alliance, my predecessor, who was working at the Museum of Glass, told me that she was going to a trade show called Active America China, and it was going to be in Atlanta (this was in 2009). And I was so terrified for her—I remember thinking, "I could never do that."
She said that they all had translators because a lot of the attendees didn't speak English. Also, they had authentic Chinese food and … two years later she left her job and I took the job and, obviously, I had to learn very quickly about the China market.
The museum was already doing a lot for the China market and—I'm a big believer in the 80-20 rule—I could see that 20 percent of our tour operators were bringing us 80 percent of our business, so I quickly started looking for ways to capitalize on those Chinese tour operators.
Anyone that's in this market knows that it's a relationship-based market. The Chinese like to do business with people they know and people they like.  So, I jokingly have said that my job description says all I need to do is make sure everyone knows me and everyone likes me, and the business will come.
I started doing calls to the New York City-based operators a lot. I also took the time to have lunch with these operators. When I started doing that, I didn't use chopsticks. I'm left-handed. I remember saying to one of the tour operators, "The reason I have problems with chopsticks is because I'm left-handed." He said, "No. That's not the reason." (She laughs.) Then, there were little things—like they would say, "Do you want a fork?" And I'd say "Nope, nope." You just have to learn to get comfortable in the China market. (Berry attended her first Active America China in 2011, and has attended every one since then.)
INBOUND: I just read that the Chinese market is 42% and 14 percent are what we call Partially Independent Travelers, or PITs. How does that break down sound to you? Are you getting any of the PIT business?
Berry: It's interesting. We do a very good job of tracking visitors at the museum. Our FIT visitors are literally the guests who arrive by car. Here, the China market is definitely increasing by double digits, but that number is going from, let's say, a thousand—up 17 percent. The vast majority of people who come to our museum from China, 95 percent, are still arriving by buses.
The change I've seen is, instead of a 55-passenger group in a bus, we're seeing fewer school buses. And then we're seeing Mercedes Sprinter vans. I call those "hybrid groups," because it's a family group traveling together, or business associates traveling together—there are ten of them or twelve of them, but they're still arriving at one time in a vehicle. They're still checking in as a group. They have a tour guide who often doubles as the driver; and, so, they're kind of a group and they're kind of an FIT. We call them hybrids because they still get the group rate, they still check in at our group desk, and they still book through companies that we do tour operator business with.
I think, for many destinations in the U.S.—outside the large cities—they're going to be seeing group business as the predominant business for years to come. I don't see the individual Chinese traveling by cars taking over that market for a while.
INBOUND: Even if the group is an extended family, or something like that—eight to twelve people in a Mercedes Sprinter?
Berry: Yes. They typically have a driver, and they have an idea of what their tour is. The traditional Chinese group will stop at an attraction for an hour-and-a-half, then get on the bus and go on to the next attraction. That's the older model that we're familiar with. Some of the more hybrid groups will spend more time—they're actually adding in a "Make Your Own Glass Experience." I hear that about other attractions, too. They're adding in experiences; they're not as rushed. From that standpoint, there's more revenue opportunities—smaller groups, but more revenue opportunities.
INBOUND: You're almost a fixture at Active America China. What are the other trade shows that you attend?
Berry: We do a lot in both the domestic and international markets. We do ABA. Just got back from NTA. OMCA. Pennsylvania Bus Association is big for us. As part of our Wine, Water and Wonders program membership, we go to WTM. I oversee the French market, so I'll go to Top Resa and be in the Brand USA booth there. We are at ITB and, of course, IPW. Obviously, I go to all the NAJ shows.
INBOUND: A colleague of yours in New York told me that, "If you're not going to the RTOs, you're not serious about international"—
Berry: I would agree. If I have people ask me, or they call me and ask me my opinion about different shows—they want to go to IPW or they want to go to China—I always say, start with the RTO shows. They're smaller. There's a day of education built in so you learn something. And you have a better opportunity to interact with tour operators in a less intimidating environment. Because, if your first foray into the international market is to go to Shanghai to go to CITM, you'll run screaming into the streets. It's overwhelming. And if you go to IPW first, it's overwhelming. When you go ITB for the first time—no matter who you are—it's overwhelming. If it's your first taste of working in the international market, I don't think it's an effective use of your money.
I think you're better off starting small and understanding and getting to build the relationships with receptives at these shows—like, at the RTO shows, you sit with people at lunch, you get to talk to them. You get to talk to them at the receptions. It makes good sense to start with these shows, I think.
INBOUND: So, receptives are a key part of your business plan, then?
Berry: Yes, receptives are a big part of our plan. When you go to the RTO shows, you can meet a lot of operators in a day. But–especially, with the China market—I try  to go their offices in New York every other month, every third month, once a quarter. I think it's good for receptives, East Coast and West Coast, to keep in touch.
As I said earlier, I use the 80-20 rule: 20 percent of the receptives bring you 80 percent of the business.
INBOUND: Over the past several years, you've become known as well-regarded speaker, presenter and writer on different subjects—especially when it comes to China. Along with your day job, this must keep you busy. How are you managing to keep up your energy level with such a busy agenda?
Berry: My standard answer when someone asks me, "How do you do it all?" I always say, I was a single mom with three kids. I raised three children by myself, so I was an expert at time management. And I can squeeze a lot out of an extra 15 minutes.
I set goals every year. Around this time every year, I sit down and start thinking about what I want to accomplish for the following year, and I usually think of a few goals –professional goals, a few personal goals, a few goals to accomplish around my home, and I keep that on my desk all year. So, I'm always looking at it and thinking, "Oh, I better do this." Or, "I have to get going on that." And that kind of thing.
The other element, I think, is I love to keep learning. I read a lot. I listen to podcasts a lot. I'm always thinking of new ideas and new things to write about, or new opportunities that I should capitalize on.