IN MEMORIAM
Brad Burlingame, 63, president and CEO of Visit West Hollywood for nearly two decades, died Dec. 8 of pancreatic cancer. Especially well-known and highly regarded in the California travel and tourism industry, his passing prompted an unusually poignant outpouring of expressions of sympathy and accounts of fond remembrances. More than 200 such expressions were posted on Facebook within days after his death.
While he was highly regarded in the California travel and tourism industry and a familiar figure at travel industry trade shows and on sales missions during which he marketed his destination and its tourism product with such success—he promoted West Hollywood as the "Creative City" and as hub of cultural and artistic activity in Los Angeles—he also had also been active as an actor, appearing occasionally in several TV series in the 1980s.
Burlingame was former chair of the California Travel Association and a past president of the Western Association of Convention and Visitors Bureaus (WACVB). He also served on the boards of the West Hollywood Chamber of Commerce and was an honorary board member of the West Hollywood Design District. Before he joined Visit West Hollywood, Burlingame was vice president of marketing and sales for the Los Angeles-based Japanese Assistance Network, a firm specializing in the Japan travel market.
He was much sought after as a speaker, presenter or panelist at industry events. He was also sought after as a mentor, or for help and counsel. With numerous contacts developed during his lifetime in Los Angeles and California, he was able to refer individuals seeking help or advice to one or several of his many professional colleagues.
Burlingame experienced a deep personal tragedy on Sept. 11, 2001 when terrorists staged an attack within the United States. His brother, Charles "Chic" Burlingame III, was the pilot of American Airlines Flight 77, whose controls were hijacked by a group of terrorists who forced the plane to crash into the Pentagon in Washington, D.C. Following his brother's death, Burlingame carried with him a leather pouch that contained a small piece of metal from the wreckage of his brother's plane. He also did extensive research into the circumstances of the attack.
"Sometimes we encounter someone who by the very fact that we know them make us better people," commented Jake Steinman, founder of NAJ. "Brad Burlingame was one of those people, which is clear from the (at last count) 263 tributes on his Facebook page, a surprising percentage of which mentioned that he was their mentor."
Sorely missed, Brad Burlingame is survived by his wife, Diane McDavitt, and daughters Marta and Lora.
New for the NAJ Group in 2016—eTourism for International … NAJ CEO Cutting Back to Give Back

Beginning in 2016, The NAJ Group, publishers of the INBOUND REPORT and hosts of the RTO Summit series, will be entering a new phase of the group's evolution—helping its clients advance in their careers through the content it provides at all NAJ events.
To launch the initiative, explained NAJ founder and CEO Jake Steinman, "We plan to replace the existing market intelligence and trends found on the first day of our NAJ RTO Summits—all of which can now be found in the INBOUND REPORT—with digital marketing information designed to arm our attendees with new skills that will make them more relevant to their organizations and help them justify an increase in compensation and promotion."
What will this look like? In 2016 NAJ will leverage the contacts built from 16 years of the eTourism Summit to develop what will amount to an "eTourism Summit for International" that will be available to existing attendees who have registered as part of their registration fee and on an a la carte basis to those who only wish to attend the first day of the event.
Content for the event will focus on how to use the tools provided by Google, Facebook, LinkedIn, WeChat, TripAdvisor and a host of other platforms—including influencers– to reach international consumers and tour operators. Each of the three events in the RTO Summit series will include content tailored for a different part of the world: While the RTO Summit West in Los Angeles will focus on digital marketing toAsia, the RTO Summit Orlando will offer a concentration on Latin America and the RTO Summit East in New York will introduce marketing for key European source markets—UK and Germany.
Other Milestones for NAJ in 2016:  
TheTouroperator.com turns 15:  NAJ will celebrating by changing the name of our website to Touroperatorland.com, and will hold a big 15th anniversary celebration as part of the RTO Summit event in New York on May 2-3.
Steinman to Scale back to Three Days a Week during Q1 of 2016: The founder and chairman of The NAJ Group, Jake Steinman told Inbound that he is transitioning to a new phase of his career and, on an experimental basis, will work only Monday through Wednesday during January through March for NAJ.  For the remainder of the work week, he will make himself available for pro bono consulting to anyone in the industry who requests it, whether they are NAJ clients or not. "It's my little way of being able to give back," said Steinman. "I owe a real debt of gratitude to this industry and I think I can use my experience and contacts to help people market their products."  On Thursdays and Fridays he will only be reachable through a private e-mail [email protected], for those who wish to arrange an appointment.
Aggressive PR Campaign Sets up TUI Sale of Hotelbeds

When it is actually announced, the sale of Hotelbeds by TUI will be anticlimactic. In prepping for the sale of its Palma de Mallorca-based operation (its Americas operation is headquartered in Cancun), Europe's largest travel company has relentlessly promoted just how strong and profitable the operation is. Not only that, TUI has pointedly been promoting just how healthy the state of its overall operation is—following the merger of the travel company with its parent company, TUI AG,  and the acquisition of the European units of Kuoni by its competitor, DER Touristik. Translation: Do not expect any interested party to pick up the Hotelbeds property at a discount.
The latest—and, indeed, impressive—announcement from TUI touted the performance of Hotelbeds in Fiscal Year 2015, which ended Sept. 30. Hotelbeds closed the year with a gross turnover of 4.279 billion euros ($4.7 billion) an increase of 700 million euros ($769 million), or a 20 percent increase over 2014, and profit before taxes and amortization (EBITA) of 117 million ($128 million), 15 percent higher.
At the same time the positive financial statement for Hotelbeds was released, TUI also announced that it its overall business had registered 2015 profits of more than $1 billion, an increase of more than 20 percent over 2014. There was no indication in the financial reports that there was any increase in Visit USA business—most of the strong numbers came from European markets. Perhaps just as important for the TUI Group as the financial numbers themselves is the impact that they will have on a sale price for the unit. Deutsche Bank and Bank of America are responsible for the financial review and sale of Hotelbeds. According to published accounts, the review is likely to be completed in the next few weeks.
It the meantime, just as TUI is spinning off Hotelbeds, it has ventured into a new activity—online vacation home rentals. It has launched a new European portal—TUIvillas.com—offering holiday homes around the world. The new website has an inventory of about 270,000 holiday homes, apartments, villas and other kinds of accommodation in 70 countries. Of these, some 30,000 homes that meet its quality criteria are currently listed as "TUI villas." The portal is operated by Atraveo, a TUI subsidiary that specializes in online bookings of holiday accommodation, and cooperates closely with TUI Ferienhaus and TUI Wolters, the group's German holiday homes brands.
The Collapse of Creative Holidays in Australia
In the scores of destinations it served over the years, receptive tour operators and travel suppliers were left wondering what happened with the announcement last week that Creative Holidays, generally acknowledged as the leading tour operator in Australia for years, would be shutting down by year's end.
John Veitch, chief executive for the The Travel Corporation (TTC) Australia, which owns the brand, said the move followed an 'exhaustive review" of the business during which it found Creative Holidays was operating in a "fiercely competitive" environment and it was difficult for a mass generalist FIT independent wholesaler.
Perhaps it had to do with the way the company tried during the past several years, perhaps belatedly, to intersect its traditional, printed brochure way of doing business with digital channels. It never made it through the intersection on time. That is one conclusion that the reader could make from this insightful article on what happened to Creative Holidays that appeared in the Dec. 11 issue of Travel Weekly Australia. We share it with you now: http://www.travelweekly.com.au/article/creative-holidays-goes-down-fighting/
For Millennials and Centennials, Everything You Thought You Knew about Marketing is Passé.
As an industry that once depended on travel agents and destination ads on TV, travel and tourism businesses are finding that reaching and converting two key demographic groups can prove difficult. For instance, according to a just released survey, two-thirds of millennials (those aged 18-34) and four out of five centennials (ages 13-17) prefer to get their content and inspiration for destinations to visit either via in-person recommendations or the social network—not with TV or print media ads. The survey in question was prepared by Chute—it is a San Francisco-based company that specializes in visual marketing—which interviewed more than 200 13-to-34-year-olds for its study.
Both millennials and centennials travel frequently, with 78 percent of people from both generations taking at least one overnight trip within the last year. And while centennials might not have that purchasing power—83 percent said they are consulted by family members when planning a trip. For your own review, we've arranged some of the findings of the Chute survey and report in the following tables.
What is your preferred media format for travel content and inspiration?
| Preferred Format | Centennials | Millennials |
| --- | --- | --- |
| In-person recommendations | 53% | 27% |
| Social media | 27% | 40% |
| TV ads | 8% | 6% |
| Destination websites | 7% | 17% |
| Travel agents | 3% | 7% |
| Print media | 2% | 4% |
Which social media platforms do you choose for travel inspiration?
| Platform | Centennials | Millennials |
| --- | --- | --- |
| Instagram | 54% | 48% |
| Youtube | 43% | 55% |
| Facebook | 39% | 70% |
| Pinterest | 25% | 41% |
| Snapchat | 14% | 16% |
| Tumblr | 11% | 25% |
| Twitter | 11% | 14% |
What type of content would most make you want to visit a location?
| Type of content | Centennials | Millennials |
| --- | --- | --- |
| Authentic photos and videos | 52% | 51% |
| Influencers | 22% | 9% |
| Reviews | 14% | 21% |
| Celebrity endorsements | 8% | 4% |
| Ads | 4% | 15% |
When do you share content related to your own travels?
| Age Group | During | After |
| --- | --- | --- |
| Centennials | 69% | 85% |
| Millennials | 74% | 83% |
Where are you most likely to share your travel-related content?
| Venue for content | Centennials | Millennials |
| --- | --- | --- |
| Instagram | 45% | 24% |
| Facebook | 40% | 63% |
| Youtube | 12% | 7% |
| Twitter | 3% | 6% |
How many photos do you typically share?
| Number of Photos | Centennials | Millennials |
| --- | --- | --- |
| 1 - 5 photos | 65% | 37% |
| 6 -10 photos | 17% | 32% |
| 11+ | 10% | 26% |
| None | 7% | 6% |
Do you use hashtags when sharing?
| Hashtag Use | Centennials | Millennials |
| --- | --- | --- |
| Use none | 38% | 67% |
| Use one | 34% | 22% |
| Use multiple | 26% | 11% |
Do you follow specific destinations on Instagram?
| Answer | Centennials | Millennials |
| --- | --- | --- |
| Yes | 18% | 37% |
| No | 82% | 63% |
How do you most want a destination brand to interact with you?
| Answer | Centennials | Millennials |
| --- | --- | --- |
| Like or comment on my photo | 48% | 43% |
| Re-share my photos, with credit | 40% | 40% |
| Converse with me on a platform like Twitter | 12% | 17% |
| | | |
NEW AND INTERESTING PRODUCT
The Museum of Political Corruption—Built on Conviction(s)
The timing could not have been better. Just as the organizer of the project, the proposed Museum of Political Corruption in Albany, New York—began serious fundraising to finance the construction of a unique attraction—Sheldon Silver, the former Speaker of the New York State Assembly, which is situated in the state capitol in Albany, was found guilty on Nov. 30 of taking nearly $4 million in bribes and kickbacks. Then, less than two weeks later, on Dec. 11, former New York state Senate Majority Leader Dean Skelos was found guilty of public corruption charges. Professional sales and marketing executives could not have arranged for such a coincidence.
The person behind the museum, Bruce Roter, a professor at the College of Saint Rose in Albany, has been working on the project for two years following a wide ranging discussion one day two with Kathy Sheehan, who went on to become mayor of Albany. During their discussion, the question was put: What Albany resource could yield tourism revenue? Corruption fit the bill and has a certain advantage, says Roter: "It's a renewable resource." Since then, Roter has already established a nonprofit museum organization, generated lots of free publicity, triggered untold numbers of irreverent and snarky commentaries by political pundits and developed a merchandising line with all sorts of not-so-subtle humor: i.e, admissions, called "bribes," will be $12.50 for adults and $6.50 for children.  ("Bring a friend or co-conspirator," advises the museum's website.")
A tentative floor plan for the museum identifies one space set aside as a "Hall of Shame" and another as "Lobbyist's Lobby." For the moment, most details on what the actual museum will look like and how much it will cost to build are sketchy to non-existent. Roter indicates that it will open sometime in 2019. In the interim, the museum's website and online gift shop is worth a look and, possibly, a laugh or two. For more information, visit: www.museumofpoliticalcorruption.org, or call 518.506.1286.
---
New National Park Has Sites in Three States
I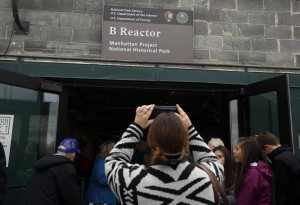 n a unique designation, the U.S. National Park Service has created a new national park in three different states whose goal it is to explain the people, places and work that led to the creation of the atomic bombs which effectively ended World War II after they were dropped on two cities in Japan in August 1945. The new park—The Manhattan Project National Historic Park—includes these sites:
—Facilities at Oak Ridge, Tennessee, which provided uranium for the Hiroshima (Japan) bomb;
—Los Alamos, New Mexico, where scientists under J. Robert Oppenheimer worked to perfect nuclear weapons in an uneasy coexistence with project boss Gen. Leslie Groves; and
—The Hanford B Reactor, located on the Columbia River north of Richland, Washington, which manufactured plutonium used in two of the first three nuclear weapons explosions—the test explosion in New Mexico, and the blast that destroyed the Japanese city of Nagasaki.
The park's creation was launched at a Washington, D.C., ceremony as U.S. Interior Secretary Sally Jewell and U.S. Energy Secretary Ernest Moniz signed a Memorandum of Agreement providing for the National Park Service to welcome visitors and develop interpretive services. The action follows years during which each site drew visitors, but not in a coordinated fashion with a single overseer.
For more information, visit: http://www.nps.gov/mapr/index.htm.
---
New Times Square Development Will Feature Two Story Miniature Attraction.
A couple of Brooklyn-based real estate developers have announced that they will locate a $30 million world of miniatures in a two-story, 49,000-square-foot space in the former New York Times building at 216 West 44th Street—in the heart of Times Square. The project, Gulliver's Gate, will include 300 miniature buildings and areas such as Grand Central Terminal, Times Square and other famous settings in New York City and elsewhere. Gulliver's Gate will also include some unique features, such as one that will allow patrons to use a full-body scanner and make mini versions of themselves to insert small versions of themselves in Gulliver's Gate. The new attraction, which is scheduled to open in April 2017, is expected to attract a million visitors a year. For more information, visit: www.gulliversgate.com.
---
Detroit Pawn Shop Made Famous Worldwide on Cable TV Now a Tourist Attraction
From throughout the USA and from countries in every part of the world, visitors to Michigan or any destination near Detroit are pouring into a pawn shop to browse, take selfies or have their photos taken with the owners and operators—founder Les Gold and his two adult children—of American Jewelry & Loan, at the intersection of Greenfield Road and the Lodge. American Jewelry & Loan has been the setting for a reality show called "Hardcore Pawn," in which Gold and his son, Seth, and daughter, Ashley, make deals with customers, and argue with one another. "Hardcore Pawn" has aired for 162 episodes (nine seasons) on truTV and its staying power has made it enormously popular.
On a typical day Les Gold said, at least 100 tourists will have their photos taken with him—the figure goes up exponentially when buses stop at the shop—and others have their photos taken with the life-size, stand-up cardboard photos of him and his son when they are absent from the scene. There is also a gift-and-souvenir kiosk, but most of the people who visit buy something from the shop's vast inventory of items. For more information, visit: www.pawndetroit.com, or call 313.345,4000.
---
HODGE PODGE: Shifts, Shakeups and Occasional Shaftings in the Tour and Travel Industry
Celyta Jackson, a well-known tour and travel industry marketing and communications consultant, has left one Miami firm— Albán Communications , where she served as vice president of tourism—for another, RDP Inc., where she'll be a vice president involved in international trade and development. Jackson, a regular speaker and presenter at industry events, has considerable expertise in the Brazilian market. She has spent most of her professional career in the hotel sector, serving at one point (1998-2002) as vice president of tourism for New York City & Company.
---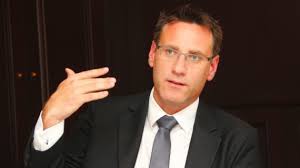 TUI Germany has reorganized its product management for regions and destinations under tourism director Oliver Dörschuck as part of a larger restructuring of its organization.  Steffen Boehnke, formerly long-haul holidays chief, is taking over the newly-created unit, TUI Hotel Brands & Cruises, and will also be in charge of premium holidays brand Airtours. He will be responsible for TUI Germany's activities in these areas in coordination with TUI Group's hotel and cruise subsidiaries. As part of the changes, Stefan Krämer, who "successfully brought Airtours back on a growth path" according to TUI, will take up a new post within the company.
---
Stefanie Berk, head of Thomas Cook Germany, has been elected as a vice-president of the German Travel Association (DRV) and head of the association's tour operator section.
---
Visit Anaheim announced that it recently added two people to its team: Ryan Alsup is manager, tourism development; and Rylee Chapman has been named tourism programs coordinator.  Alsup, who will work the markets of Australia, New Zealand and Mexico, as well as the U.S. domestic market, came to the bureau from Red Lion hotels, where he was a tour and travel market group sales manager. Chapman joined Visit Anaheim from the Huntington Beach Downtown Business Improvement District, where she was a graduate research assistant.
---
Terese' Balzereit recently took on the position as director of business operations at the Philadelphia Trolley Works/Big Bus in Philadelphia. A veteran of 25 years in the tour and travel industry, Balzereit's CV includes several senior sales and marketing posts, including a nine-year tenure as director of international marketing for Pennsylvania's tourism office.