The Museum of Political Corruption—Built on Conviction(s)
The timing could not have been better. Just as the organizer of the project, the proposed Museum of Political Corruption in Albany, New York—began serious fundraising to finance the construction of a unique attraction—Sheldon Silver, the former Speaker of the New York State Assembly, which is situated in the state capitol in Albany, was found guilty on Nov. 30 of taking nearly $4 million in bribes and kickbacks. Then, less than two weeks later, on Dec. 11, former New York state Senate Majority Leader Dean Skelos was found guilty of public corruption charges. Professional sales and marketing executives could not have arranged for such a coincidence.
The person behind the museum, Bruce Roter, a professor at the College of Saint Rose in Albany, has been working on the project for two years following a wide ranging discussion one day two with Kathy Sheehan, who went on to become mayor of Albany. During their discussion, the question was put: What Albany resource could yield tourism revenue? Corruption fit the bill and has a certain advantage, says Roter: "It's a renewable resource." Since then, Roter has already established a nonprofit museum organization, generated lots of free publicity, triggered untold numbers of irreverent and snarky commentaries by political pundits and developed a merchandising line with all sorts of not-so-subtle humor: i.e, admissions, called "bribes," will be $12.50 for adults and $6.50 for children.  ("Bring a friend or co-conspirator," advises the museum's website.")
A tentative floor plan for the museum identifies one space set aside as a "Hall of Shame" and another as "Lobbyist's Lobby." For the moment, most details on what the actual museum will look like and how much it will cost to build are sketchy to non-existent. Roter indicates that it will open sometime in 2019. In the interim, the museum's website and online gift shop is worth a look and, possibly, a laugh or two. For more information, visit: www.museumofpoliticalcorruption.org, or call 518.506.1286.
---
New National Park Has Sites in Three States
I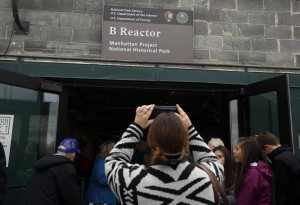 n a unique designation, the U.S. National Park Service has created a new national park in three different states whose goal it is to explain the people, places and work that led to the creation of the atomic bombs which effectively ended World War II after they were dropped on two cities in Japan in August 1945. The new park—The Manhattan Project National Historic Park—includes these sites:
—Facilities at Oak Ridge, Tennessee, which provided uranium for the Hiroshima (Japan) bomb;
—Los Alamos, New Mexico, where scientists under J. Robert Oppenheimer worked to perfect nuclear weapons in an uneasy coexistence with project boss Gen. Leslie Groves; and
—The Hanford B Reactor, located on the Columbia River north of Richland, Washington, which manufactured plutonium used in two of the first three nuclear weapons explosions—the test explosion in New Mexico, and the blast that destroyed the Japanese city of Nagasaki.
The park's creation was launched at a Washington, D.C., ceremony as U.S. Interior Secretary Sally Jewell and U.S. Energy Secretary Ernest Moniz signed a Memorandum of Agreement providing for the National Park Service to welcome visitors and develop interpretive services. The action follows years during which each site drew visitors, but not in a coordinated fashion with a single overseer.
For more information, visit: http://www.nps.gov/mapr/index.htm.
---
New Times Square Development Will Feature Two Story Miniature Attraction.
A couple of Brooklyn-based real estate developers have announced that they will locate a $30 million world of miniatures in a two-story, 49,000-square-foot space in the former New York Times building at 216 West 44th Street—in the heart of Times Square. The project, Gulliver's Gate, will include 300 miniature buildings and areas such as Grand Central Terminal, Times Square and other famous settings in New York City and elsewhere. Gulliver's Gate will also include some unique features, such as one that will allow patrons to use a full-body scanner and make mini versions of themselves to insert small versions of themselves in Gulliver's Gate. The new attraction, which is scheduled to open in April 2017, is expected to attract a million visitors a year. For more information, visit: www.gulliversgate.com.
---
Detroit Pawn Shop Made Famous Worldwide on Cable TV Now a Tourist Attraction
From throughout the USA and from countries in every part of the world, visitors to Michigan or any destination near Detroit are pouring into a pawn shop to browse, take selfies or have their photos taken with the owners and operators—founder Les Gold and his two adult children—of American Jewelry & Loan, at the intersection of Greenfield Road and the Lodge. American Jewelry & Loan has been the setting for a reality show called "Hardcore Pawn," in which Gold and his son, Seth, and daughter, Ashley, make deals with customers, and argue with one another. "Hardcore Pawn" has aired for 162 episodes (nine seasons) on truTV and its staying power has made it enormously popular.
On a typical day Les Gold said, at least 100 tourists will have their photos taken with him—the figure goes up exponentially when buses stop at the shop—and others have their photos taken with the life-size, stand-up cardboard photos of him and his son when they are absent from the scene. There is also a gift-and-souvenir kiosk, but most of the people who visit buy something from the shop's vast inventory of items. For more information, visit: www.pawndetroit.com, or call 313.345,4000.
---