Just before IPW, German Trade Has First Monthly Sales Increase of Year
With a large delegation of German tour operators set to arrive in New Orleans in a little more than three weeks from now, the atmosphere for doing business in the USA's fifth largest overseas market needed a psychological boost after flat-to-dismal month retail sales figures since the end of 2015. The boost came last week with the release of some strong numbers in several surveys that take the monthly pulse of the German travel.
It seems that trade managers are actually very optimistic about sales for 2017, and they believe that—despite the fear of terrorism at some destinations—German travelers will take the risk if the price is low enough. Some highlights from those surveys, as first reported by the German travel trade publication, FVW, follow.
From the Nuremburg-based research firm Gfk:
—Holiday sales in German travel agencies grew by 6.6 percent in April breaking a five-month downward trend
—This follows a similar 6.7 percent growth figure in the monthly survey by IT services firm TATS.
—The 6.6 percent growth figure for April means that cumulative sales for summer 2016 are now "only" 6 percent behind last year's levels, compared to -9 percent in January.
—In terms of individual departure months, however, July is the only month with higher sales than last year
—August is still down sharply, 18 percent below 2015 levels.
—These figures mean it will be a challenge for summer 2016 sales to recover sufficiently to return to 2015 levels.
—Only 64 percent of summer 2015 revenues have so far been reached for this year.
—The winter 2015/16 season closed with a slight 1 percent increase in travel agency revenues.
—One sign of hope is the high level of early bookings for next winter, for which advance bookings are up by 24 percent.
—Winter 2016/17 revenues already accounted for nearly 17 percent of total revenues last month.
From the Tourism Industry Club (TIC), whose members are mostly top managers and other decision-makers, survey results come out looking like this:
| Statement | % |
| --- | --- |
| Believe the recent drop in demand is due to fear of travelling following terror attacks in various destinations. | 94% |
| Expect "Islamic" countries to increasingly disappear from the tourism map | 58% |
| Those who include Turkey in the above category | 42% |
| Do not believe that the destination will make a recovery in the short term | 63% |
| Expect Germany to have a record tourism summer | 87% |
| Believe that consumers are prepared to take a certain risk in return for cheap prices | 64% |
| Source: TIC. Based on 186 responses to survey. | |
| | |
| | |
For IPW Delegates Who Ask "Has the Strong U.S. Dollar Really Hurt Inbound Traffic to USA?"
Surprise, the Exchange Rate Didn't Really Hurt Arrivals: If the data hold up in the way that they are appearing in preliminary counts, 2015 was a good year for international travel to the USA, the strong U.S. dollar notwithstanding. Despite all the speculation on the part of those work the Eurozone markets, the slump in the exchange rate of the euro vs. the dollar did not seem not to have affected arrivals from the U.S. from Europe and especially Germany—or from other key overseas markets, for that matter. The last half year for which data are available (January-June 2015) from the U.S. Department of Commerce's National Travel and Tourism Office (NTTO) show that overseas arrivals had increased 8.7 percent. Preliminary numbers for the full year, sources have told us, suggest that the full year result for 2015 will likely show that the increase will be similar.
If the suggestion holds, it will confirm what U.S.-based receptive operators who specialize in the German market told the Inbound Report even as European travel trade journals wrote of the dire consequences of the continued strength of the dollar vs. euro that it did not matter that much because U.S. is largely perceived as a long-haul luxury destination, and one makes a decision to travel to the U.S. well in advance—economic factors notwithstanding. Such a decision is not easily undone.
(For your information, the dollar is at about the same level against the euro as it was a year ago. See: http://www.xe.com/currencycharts/?from=EUR&to=USD&view=1Y.)
The news comes after more than a year's worth of delay and episodic generation of arrivals data due to the information collection problems of the U.S. Department of Homeland Security (DHS) and the way in which the agency delivers it to NTTO, is hoping that it will be able to deliver a new long-range international arrivals forecast by this coming October. The Fall/October forecast provides year-to-date arrivals for the current year, as well as a long-term, five-year outlook for key international source markets.
In prior years, the Fall Forecast used to be tied to the timing of the U.S. Travel Association's Marketing Outlook Forum each October. US Travel offloaded the brand to the Travel and Tourism Research Association (TTRA) several years ago. This year's TTRA Marketing Outlook Forum takes place October 24-26 at the West Beach Resort & Spa in Fort Lauderdale. The NTTO Spring Forecast, which would update the Fall Forecast, has been a feature of the agency's press conference at IPW.
Back in the days when thousands of trees were killed each year to provide the paper for all of the hard-copy press kits and reports made available for the news media that covered IPW, the U.S. Office of Travel and Tourism Industries (predecessor of NTTO) or its predecessor, the U.S. Travel and Tourism Administration (USTTA) used reams to provide the thick compendium of different analyses, outlooks and country market reports made available to journalists who used the information to file annual or semi-annual feature stories based on its data.
So sought after was the material that some journalists reported thefts of the USTTA/OTTI press kits  from their cubby hole mail boxes in the IPW press room. The news conference at which the kits were distributed used to be the most widely attended new conference on the IPW schedule. This year, in the wake of the collection and distribution problems, there is no press conference even scheduled.
Why Are Chinese Investors So Interested in U.S. Real Estate?
 "House Hunting" by Chinese investors looking to purchase homes as both an investment and as a second residence—a trend brought up discussed by NAJ founder and CEO Jake Steinman earlier this month at NAJ's RTO Summit East in New York—is a fact.
Between 2010 and 2015, as just reported in China Daily, Chinese buyers invested at least $93 billion into U.S. homes. The figure comes from a new study by the Asia Society and the Rosen Consulting Group: "Breaking Ground: Chinese Investment in U.S. Real Estate."
Among the study's highlights:
—China is the biggest foreign holder of mortgage-backed securities issued by U.S. government-sponsored enterprises such as Fannie Mae and Freddie Mac, with a total of $207.9 billion, an increase from $20 billion in 2000.
—Chinese pay a higher price for condos, homes and apartments in the U.S. than other foreign buyers do. According to the National Association of Realtors, the average home price for Chinese buyers in 2015 was $831,800, compared to $499,600 for other international buyers.
—Half of the $17.1 billion investment by Chinese in existing office towers, hotels and other commercial buildings came in 2015, representing an annual growth rate of 70 percent.
—In 2015, China ranked third in U.S. commercial real estate acquisition volume, behind Canada ($24.6 billion worth of investment) and Singapore ($14.6 billion).
—On the residential side in 2015, Chinese buyers were No 1, topping Canada's $11.2 billion and India's $7.9 billion.
—One way in which the housing investment has created long-term visitors is through the EB-5 Visa Program which, essentially, awards a long-term visa to citizens of other countries who invest $500,000 in jobs generating and sustaining projects in the United States. Since 2010, nearly 20,000 Chinese EB-5 investors have generated at least $9.5 billion of capital and may have created or sustained 200,000 jobs, the report said. Chinese have been the number one recipients of EB-5 visas.
Just how extensive is Chinese investment in the U.S. real estate market? Said the study from the Asia Society and the Rosen Consulting Group: "More than any foreign investor other than Canada, China stands out for the breadth, depth, and speed of its participation in the U.S. real estate market."
UK's High Street Agencies a Thing of the Past?
News commentators all across the UK were wondering aloud last week if there is a future for the traditional travel agency—known in the UK as a high street shop—in the research and booking of holidays. Driving the speculation were some key numbers from a new survey conducted by Survey Opinionway for Kayak. One news report speculated that the high street agency could be gone in five years.
Holiday Booking Method of UK Adults
| Year | % Who Book through Traditional Agency | % Who Book Online |
| --- | --- | --- |
| 2006 | 57% | 35% |
| 2016 | 19% | 79% |
| Source: Survey Opinionway | | |
Breakdown of Online Bookings
| Channel | % Booking |
| --- | --- |
| Web-based travel agencies | 50% |
| Airline and hotel websites | 47% |
| Travel search engines | 24% |
| Source: Survey Opinionway | |
"The research is a worrying signal for high street travel agents but isn't entirely shocking," said Loella Pehrsson, regional director at Kayak. "Given the internet allows you to not only shop around, but browse and book holidays from the comfort of your own home, it's no surprise that Brits are increasingly choosing this option over high street travel agents."
In Fact, UK Travelers Using OTAs More and More on their Path to Booking: News of the Kayak survey followed the release of another 39-page report, "The British Traveller's Path to Purchase," which shows that, although UK holidwaymakers still rely a good deal on word-of-mouth recommendations from friends and family in their decision-making process, it is primarily an online venture as they get closer to the point of booking. Also, more British travelers than ever are using mobile devices to facilitate their holiday bookings.
Online and Offline Resources
Influencing a Holiday Booker's Destination Decision
| Resource | % |
| --- | --- |
| Family/friend recommendations | 18% |
| Online travel agencies (Expedia.com, etc.) | 15% |
| Search engines (Google.com, etc.) | 11% |
| Airlines sites (United.com, etc.) | 9% |
| Hotel sites (Marriott.com, etc.) | 8% |
| Travel information sites (Tripadvisor.com, etc.) | 6% |
| Search engine travel sites (Yahoo.com travel, etc.) | 5% |
| Online travel guide sites (LonelyPlanet.com, etc.) | 4% |
| Destination site (Visitcalifornia.com) | 3% |
| Source: Expedia Media Solutions | |
| | |
And, clearly, greater reliance on the sites of online travel agencies (OTAs) has become a fact of life as they near their point of purchase. Illustrating the point are the following tables and charts from the survey, which was underwritten by Expedia Media Solutions, Inc.
Why Are Tourico Scientists Mining the Big Data Lodes?
Orlando-based Tourico Holidays announced on May 25 that it has formed an elite team of computer scientists at its technical and research company, Travel Global Systems (TGS), that is dedicated exclusively to a new data mining effort which is intended to identify the origin and cause of shifts in travel booking behavior, and provide insights that enable distributors to optimize their marketing and sales.  The data mining  initiative will examine over 200 million travel searches generated daily by Tourico—and cross-reference it with travel market data available from nSight and other sources for a comprehensive analysis of industry trends.
"Our system sees billions of searches each week—providing massive piles of data on all different types of travel offerings –from air and hotel, to cruises and vacation homes," said Einat Aviv, the data mining team leader for TGS who has undergraduate and graduate degrees in statistics and methodology and statistics, respectively, from The Hebrew University of Jerusalem. "By combining this intelligence with the data that's currently available in the travel ecosystem, we're able to capture a 360-degree-view of the industry—and gain a much better understanding of supplier trends and client demand. To our knowledge, this type of effort has been unprecedented in our sector of travel."
How it Will Work: Tourico won't be selling the big data or any of its 50 or so business intelligence modules. Rather, a company spokesman told the Inbound Report, the new data mining program will ultimately allow Tourico to customize its travel solutions for clients and partners, helping them build individual product offers based on regional travel trends, booking behaviors, and customer profiles. "By tailoring its offerings –including hotel, air, car rental, attractions,  and more—Tourico's partners and agents can improve conversion rates and significantly enhance bottom-line revenues," the spokesman said.
For example, he explained, "Our top clients in China increased searches to Phuket, Bangkok and Singapore X 1,000 year-over-year since 2015. Tourico's data mining team is working to better understand the exact preferences of those top clients and create a 'target list' to fit their needs. Combining Tourico's proprietary data with external travel data will help the wholesaler tailor its offerings to these Chinese clients—and help them increase their bookings. Also, as the business intelligence modules predict a growing demand in certain Chinese cities, Tourico will work to increase their supplier contracts there, to meet the demand and further increase bookings. "
The data mining initiative also provides Tourico with better insight into "the global travel ecosystem," allowing the operator to better predict upcoming changes and which suppliers they should contract.
The Tourico database processes over 200 million searches per day and the new data mining team is combining their proprietary information with external travel sources. The company says that it "is the first and only company in the space to utilize big data to steer the business."
"This new initiative is huge for our business – and our industry," said Aviv, who is leading a team of 10 scientists in the data mining project., adding, "this is the beginning of a new chapter in travel intelligence – and the first page turns today."
New and Interesting Product
What's New for 2016 with North American Travel Attractions? More than 80 new attractions in the USA and Canada are featured in the annual roundup released by the International Association of Amusement Parks and Attractions (IAAPA). The new products include virtual reality roller coasters, 3D and 4D attractions, interactive guest experiences and "edutainment."  For the complete IAAPA list of new attractions, visit: http://www.iaapa.org/news/newsroom/news-articles/iaapa-releases-annual-preview-of-what's-new-in-2016-in-u.s.-and-canada.
New Museum for Spam—the Edible Sort: The legendary luncheon staple, SPAM, now has a new museum. Opened by the Hormel Food Company in Austin, Minnesota as an afterthought once the now legendary meat product (the square-shaped mash-up of pork, water, salt, potato starch, sugar, and sodium nitrate, it is identifiable by the squarish can in which it has been marketed since it was first produced in 1937) became globally popular, the new museum is actually a bit smaller than the one it has replaced. The new site was actually designed to be a museum, however, and accommodates visitors who are more inclined to make gift shop purchases and take selfies inside and outside the structure. The new museum is also vehicle friendly—its website even has a link to a parking map. For more information, visit: www.spam.com/museum, or call 800.588.7728.
Soon to Come—Pilot, the Language Translator You Wear in Your Ears, Due Next Year: "The internet went nuts for Pilot" last week, wrote one writer who covers technology put it when word came out that a New York startup had developed a real time translation wearable-hearable device, one that will provide real-time language translation to individuals who are have the app's earplugs and are talking to one another.  Said Andrew Ochoa, founder of Waverly Labs, which is developing the product, "A life untethered, free of language barriers. It's just that it's no longer a dream anymore." The news coverage of the device (it's in the beta stage), which was introduced at the launch of an Indiegogo crowdfunding campaign, comprised more questions than answers as Ochoa explained the app, which translates and sends a voice with the other person's speech to the earpiece.. The initial version will support some European languages (English, Spanish, French, Italian), with others to be added.
Some of the Internet chatter about Pilot seemed inflated, and it was. For instance, Forbes spoke with Ochoa, who told the publication, "We're building a hybrid system. Some of it's licensed and some we've built ourselves. We don't want to make any promises or references that this is incredibly real-time or that we could give you an earpiece and drop you off in the middle of Tokyo. That is not what we're trying to convey at all." Also, another question not answered at the company's website (www.waverlylabs.com) is where, exactly, it is located. For those seeking to business with the company, contact it through [email protected],
New Tours in Taos, New Mexico: A guide and trip leader with more than a decade of experience, Angelisa Espinoza, started her own tour and tour guide business earlier this year, and has now partnered with Heritage Hotels & Resorts to launch three new tour products in the Taos area:
—Eat Pray Love Experience: a three-day tour that explores ancient petroglyphs, Taos Pueblo and San Francisco de Asis Mission Church, and a private concert with Grammy Award winner Robert Mirabal, yoga and wine-tasting among other culinary, artistic and spiritual explorations
—Weekend of Enchantment: a four-day tour that explores the historic village of Chimayo and the High Road to Taos, the Earthship Community, Georgia O'Keeffe Country, Abiquiu and Santa Fe'sCanyon Road among other cultural treasures
—Heritage Active Adventure: a five-day tour that involves hiking in Kasha-Katuwe Tent Rocks National Monument and Bandelier National Monument, a Rio Grande River Float, llama trekking in Taos Mountain and other active adventures
The new company also offers half-day and full-day tours that embark from El Monte Sagrado Resort & Spa inTaos, NM. A new Chaco Canyon Tour will be announced for the new Hotel Chaco opening in Albuquerque in 2017. For more information, visit: www.heritageinspirations.com, or call Angelisa Espinoza, 575-779-5516.
HODGE PODGE—Shifts, Shakeups and Occasional Shaftings in the Tour and Travel Industry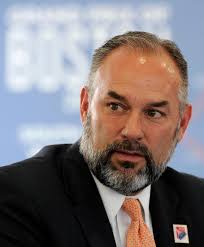 Kenneth Brissette, director of tourism, sports and entertainment for the City of Boston, has been indicted by a federal grand jury on extortion charges in connection with a music festival production company in the city. Brissette, 52, allegedly extorted a company that had already entered into a contract with a non-union company to provide workers for a September 2014 festival, forcing it to hire members of the International Alliance of Theatrical Stage Employees Local 11 union. In a statement, Boston Mayor Martin J.Walsh said that he was "devastated" by the news, describing Brissette, as a "good and hardworking person."  In the meantime, Brissette has been placed on paid administrative leave. Before the director of tourism job, he was chief operating officer of the Massachusetts Office of Travel and Tourism
---
Travel Leaders Group has announced the appointment of Gabriel (Gabe) Rizzi to the newly-created position of chief sales officer and head of corporate travel across the group. He joins Travel Leaders from Dun and Bradstreet, where he worked for nine years—most recently served as its senior vice president of sales. Rizzi has more than 20 years of multi-industry experience in direct sales, field sales, marketing, and operations working for key technology brands such as AT&T in New Jersey and Gateway Computers in California.
---
In France, Carrefour Voyages has announced the appointment of Nadian Van Cleven to the post of director general. The company is the travel branch of the French multinational retailer, Carrefour, which is the fourth largest retail group in the world (after Wal-Mart, Tesco and Costco). A veteran of more than 20 years in the travel industry, Van Cleven's resume includes tenures with Thomas Cook France, the Promovacances group, Expedia, Go Voyages and, most recently, venteprivée.com.
---
Long time tour operator Shebby Lee—she is based in Rapid City, S.D.—has received the South Dakota Governor's Awards for History, which was at the state Historical Society's annual Awards Luncheon in the state capitol, Pierre. The award is presented to the individual who demonstrates outstanding dedication and commitment to excellence in the sharing, collection, preservation and interpretation of South Dakota history. Lee is well known as a speaker and writer on the history of the Rocky Mountain States and the Pacific Northwest.
---
Southern Idaho Tourism has selected Melissa Barry as its new executive director. She'll be taking over from Debbie Dane, who retires next month after 13 years on the job. An Idaho native, Barry has worked in marketing, event management and sales, much of the time with sporting goods giant Cabela's. She previously worked for Standlee Premium Western Forage.
---
Bill Talbert, president and CEO of the Greater Miami CVB, has been elected to serve as the next chairman of the board of directors of Visit Florida, starting July 1, 2016.  He'll succeed JohnTomlin, chief operating officer at The Auto Club Group in Tampa who is the current 2015-2016 chairman of the organization.
---
Tui's last-minute travel specialist, L'tur has announced the appointment of Thomas Silano, formerly with Alltours, as the new head of hotel contracting in place of Stefanie Erbacher, who has left the company. At Alltours, Silano was purchasing manager for Central Europe. Previously, he was managing director of Sitalia.
---
Long-time travel and tourism industry veteran
has left his post as vice president, supplier relations for Egencia, the corporate travel arm of Expedia, to join Uplift—a Silicon Valley startup with a payment marketing  platform aimed at enabling partners to promote preferred payment types and to expand co-branded cards—to help the new company increase its partner network. Prior to his tenure with Egencia, Vukelich held senior and executive management positions with travel industry leaders such as Travelport, Hilton International and British Airways.