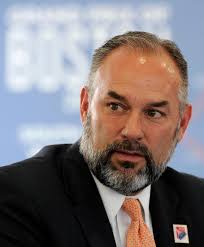 Kenneth Brissette, director of tourism, sports and entertainment for the City of Boston, has been indicted by a federal grand jury on extortion charges in connection with a music festival production company in the city. Brissette, 52, allegedly extorted a company that had already entered into a contract with a non-union company to provide workers for a September 2014 festival, forcing it to hire members of the International Alliance of Theatrical Stage Employees Local 11 union. In a statement, Boston Mayor Martin J.Walsh said that he was "devastated" by the news, describing Brissette, as a "good and hardworking person."  In the meantime, Brissette has been placed on paid administrative leave. Before the director of tourism job, he was chief operating officer of the Massachusetts Office of Travel and Tourism
---
Travel Leaders Group has announced the appointment of Gabriel (Gabe) Rizzi to the newly-created position of chief sales officer and head of corporate travel across the group. He joins Travel Leaders from Dun and Bradstreet, where he worked for nine years—most recently served as its senior vice president of sales. Rizzi has more than 20 years of multi-industry experience in direct sales, field sales, marketing, and operations working for key technology brands such as AT&T in New Jersey and Gateway Computers in California.
---
In France, Carrefour Voyages has announced the appointment of Nadian Van Cleven to the post of director general. The company is the travel branch of the French multinational retailer, Carrefour, which is the fourth largest retail group in the world (after Wal-Mart, Tesco and Costco). A veteran of more than 20 years in the travel industry, Van Cleven's resume includes tenures with Thomas Cook France, the Promovacances group, Expedia, Go Voyages and, most recently, venteprivée.com.
---
Long time tour operator Shebby Lee—she is based in Rapid City, S.D.—has received the South Dakota Governor's Awards for History, which was at the state Historical Society's annual Awards Luncheon in the state capitol, Pierre. The award is presented to the individual who demonstrates outstanding dedication and commitment to excellence in the sharing, collection, preservation and interpretation of South Dakota history. Lee is well known as a speaker and writer on the history of the Rocky Mountain States and the Pacific Northwest.
---
Southern Idaho Tourism has selected Melissa Barry as its new executive director. She'll be taking over from Debbie Dane, who retires next month after 13 years on the job. An Idaho native, Barry has worked in marketing, event management and sales, much of the time with sporting goods giant Cabela's. She previously worked for Standlee Premium Western Forage.
---
Bill Talbert, president and CEO of the Greater Miami CVB, has been elected to serve as the next chairman of the board of directors of Visit Florida, starting July 1, 2016.  He'll succeed JohnTomlin, chief operating officer at The Auto Club Group in Tampa who is the current 2015-2016 chairman of the organization.
---
Tui's last-minute travel specialist, L'tur has announced the appointment of Thomas Silano, formerly with Alltours, as the new head of hotel contracting in place of Stefanie Erbacher, who has left the company. At Alltours, Silano was purchasing manager for Central Europe. Previously, he was managing director of Sitalia.
---
Long-time travel and tourism industry veteran
has left his post as vice president, supplier relations for Egencia, the corporate travel arm of Expedia, to join Uplift—a Silicon Valley startup with a payment marketing  platform aimed at enabling partners to promote preferred payment types and to expand co-branded cards—to help the new company increase its partner network. Prior to his tenure with Egencia, Vukelich held senior and executive management positions with travel industry leaders such as Travelport, Hilton International and British Airways.
---